Leading venture capitalist Marc Andreessen fueled a Twitter storm on Wednesday by equating India's recent decision to ban services such as Facebook's Free Basics with the benefits of colonialism.
"Anti-colonialism has been economically catastrophic for the Indian people for decades. Why stop now," Andreessen, who also sits on Facebook's board, said in response to chain of tweets on net neutrality and Free Basics. The tweet was later deleted.
Andreessen seems to be alluding to the 40-odd years after India's independence in 1947, during which its growth rate was hampered by anti-free market policies.
Andreessen said the decision to ban differential pricing of data services is one of the several anti-people decisions taken by the Indian government.
"Another in a long line of economically suicidal decisions made by the Indian government against its own citizens," he tweeted.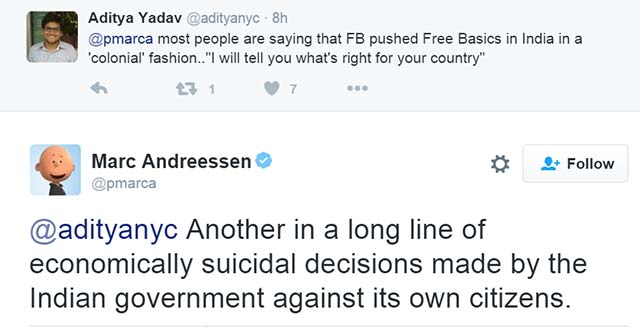 "Denying world's poorest free partial Internet connectivity when today they have none, for ideological reasons, strikes me as morally wrong," he said in response to a separate tweet.

The tweets generated sharp reactions from netizens.


Andreessen is better known as the founder of web browsers Mosaic and Netscape. He is also general partner of Silicon Valley-based VC firm Andreessen Horowitz.
Though Andreessen did not offer an apology, he promised to refrain from commenting on India's economy.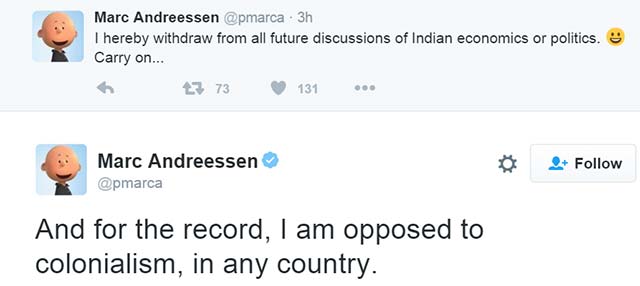 Recently, the Telecom Regulatory Authority of India (TRAI) banned differential pricing of data services in a move that effectively debars services such as Facebook's Free Basics and Airtel Zero. The ruling means internet service providers cannot vary their tariffs on the basis of the type of content accessed by users.