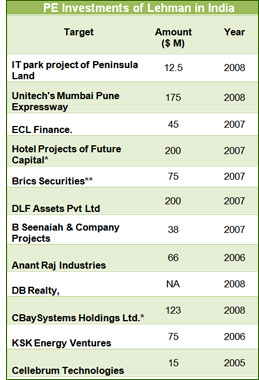 Global investment bank Lehman Brothers has filed for bankruptcy under chapter 11. What does this man for the operations of the US bank in India?
VC Circle spoke to market sources to get the likely impact of these two events:
What Does Chapter 11 Mean For Lehman?
Lehman has filed for bankruptcy protection in the US courts under chapter 11, which means the company has claimed protection from bankruptcy and still can remain in business and avoid liquidation. This is different from chapter 7, where the bankruptcy trustee gathers and sells the debtor's non-exempt assets and uses the proceeds of such assets to pay holders of claims (creditors).
Lehman To Wind Down Operations
Sources tell us that Lehman Brothers has to wind down their operations in Indian in any case. They will have to stop making principal investments in companies and also expsoure to stock markets.
Agency Business To Continue
Lehman's agency business - essentially dealer and broking businesses - will continue in India. That is not part of the chapter 11 filing anyways.
P-Note Clients Moving To Other MNC Brokers
Sources indicate that a good 40% of the P-Note clients of Lehman Brothers have moved to other MNC brokers in India. The AA rated brokers like BNP Paribas Securities, Deutsche Bank Securities and Calyon (essentially all European brokers) are the beneficiaries as most of the Lehman P-Note clients who have moved have found refuge in the brokers.
Lehman's staff in India have already started looking out. So who is hiring? BNP Paribas, Nomura and Daiwa Securities are the only MNC investment banks who are hiring. So some of them may find jobs with these banks.
Besides, Lehman's research and sales team in the broking division are said to be talking to a small Indian broking firm (which owes allegiance to a large industrial house in Mumbai).
What About Private Equity Division?
Lehman has already put their real estate investment arm on the block. The firm's investment team is said to be on the lookout for jobs.
What About Lehman-Backed IPOs?
One of the companies in which Lehman had invested, Cellebrum Technologies, had filed for its IPO. Lehman held a 17% stake in VAS provider Cellebrum in which they had invested $15 million in 2005. Another one of its investments, KSK Energy Ventures, has just listed on Indian markets. Lehman has invested more than $75 million in KSK and hold about 28% stake.