Timothy Cook Draper, founder of Silicon Valley-based venture capital firm Draper Associates, is back in India to invest in early-stage startups after a one-year hiatus, according to a media report.
Draper will invest about $1 million in each startup. The key areas of focus will be firms working on bitcoin, blockchain, artificial intelligence and big data, The Economic Times reported.
"I am looking for Indian startups run by people with integrity and honour, who are building great businesses with unique technologies and going after large markets," Draper told the business daily.
The investments will be made from Draper Associates' $190-million fund, which was raised last year. Draper is looking to invest in 30 startups, globally, but he did not specify the number of Indian startups the fund plans to invest in.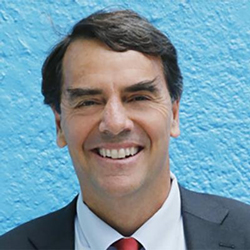 Early-stage venture fund Blume Ventures will be Draper's primary co-investor, though the firm is also open to joining hands with other local VCs. Blume Ventures had formed a strategic partnership with Draper Venture Network last month.
The California-based Draper Venture Network was formed in 1990, and claims to have funded more than 600 companies and exited over 200, which include Skype, Baidu, Twitch and Cruise Automation.
The alliance will allow Blume Ventures' portfolio companies to access a global network of corporate and ecosystem relationships. The firm will also continue to raise its own capital and manage investment decisions independently.
Draper Venture Network is present across four continents and has $1.6 billion in collective assets. The network's member firms, which are, typically, post-seed or Series A and B funds, collaborate on investment insights and deal syndication, as well as share a portfolio services team located in Silicon Valley.
Draper had first entered India with DFJ India in 2007. The venture capital firm invested in about a dozen Indian companies through its US-based fund, but put its India portfolio on the block after shutting its local office in 2013.
It had bought stakes in companies such as travel website Cleartrip, electronic waste management firm Attero Recycling, renewable energy company Bharat Light and Power, mobile advertising firm RevX and online photography company Canvera. In May 2016, the firm sold almost its entire Indian portfolio to Hong Kong-based NewQuest Capital Partners.
Like this report? Sign up for our daily newsletter to get our top reports.