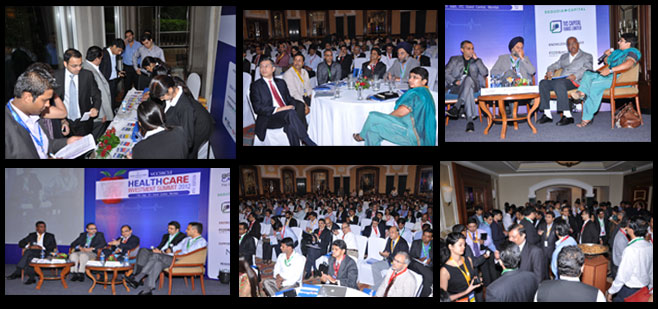 How to scale up and expand will be some of the major issues in front of healthcare chains as they look to create national brands and take disproportionate market share in this industry. While investors' interest has remained strong in the sector, healthcare chains will need to deal with issues like payee systems, talent and
infrastructure. Over 300 investors, entrepreneurs and other stakeholders in this industry gathered at the VCCircle Healthcare Investment Summit 2012, held in Mumbai on September 11 to discuss challenges and opportunities in the industry.
The Indian healthcare market is likely to double by 2015 and reach $100 billion, says ratings agency Fitch. India's growing population is seeking quality healthcare across specialties while increasing insurance penetration ensures better spending power on the part of consumers.
"Players have approached the sector with an institutional mindset of creating brands, which will help them take a disproportionate part of the growth in the sector. It offers investors moderate but non-cyclical growth," said Niten Malhan, managing director at Warburg Pincus. The PE firm has invested in firms like Metropolis Healthcare and Max India.
While Dr. A Velumani , CMD, Thyrocare Technologies Ltd believes that entry barriers are lower in diagnostics as compared to hospitals, but still remains tough for new entrants. "Existing players have already acquired the market on low cost, but a new player will find it tough to create volume," said Velumani.
Dr. Om Manchanda, CEO, Dr. Lal PathLabs Pvt. Ltd, said diagnostics continues to be the most attractive business since it's an asset-light business and offers highest return on capital employed.
The change from opinion-based to test-based diagnosis is driving growth in the segment. Another is move from infectious diseases to lifestyle disorders, where a lot people opt for regular preventive health checkups, Manchanda said.
Growth factors and challenges
"Tier-II and III cities will see the next phase of growth. Large healthcare groups are starting to roll out tier-II, III expansion plans as real estate cost in metros has become prohibitive," said Dr Amit Varma, Managing Director, healthcare, Religare Enterprises Limited.
But building large chains will not be easy, as ensuring success of second or third units remains a challenge for operators. Even as these plans are chalked out, healthcare providers need to look at existing challenges outlined by Dr. Vikram Chhatwal, Operating Partner, Advent International. First is how to deal with the changing payee systems (from pocket to insurance). Second is paucity of skilled manpower across doctors, nurses and paramedical staff and the third major challenge is infrastructure, where beds are available, but there is lack of quality care.
While healthcare services will primarily remain a local business, there is a difference of opinion on what model one should adopt. Varma thinks that even large chains can expand into tier-II, III cities through a hub and spoke model.
But Chatwal somewhat differs, saying that "you need to build local brands which people associate with as community health centres. Going deep will be much more relevant than going wider (while expanding)," he said.
(Edited by Prem Udayabhanu)