The Reserve Bank of India (RBI) on Wednesday granted in-principle approval to 10 of the 72 applicants for small finance bank licences. While the central bank covered eight MFIs of the 17 who applied, there were some prominent names who weren't there on the list.
However, there were some NBFCs and other big names that didn't get selected. Like the payments bank licences, where a few large players didn't get approval, the central bank kept hope for some of these ventures alive by announcing on-tap licences going forward.
Only half got through
For the MFI sector, grabbing bulk of the slots was a big development. But just under half of the applicants made it. The biggest MFI to get left behind was SKS Microfinance, the second largest microlender in the country after Bandhan (it was picked for mainstream retail bank and recently started operations), was a big exclusion. The firm that battled its way out of a tough period after a blockbuster listing with the regulatory flux in its core market Andhra Pradesh (which it eventually exited) and exit of its its founder, is the only significant public listed MFI in the country.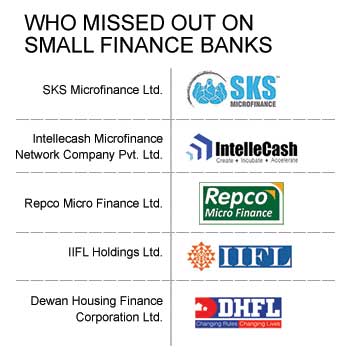 Among the other large MFIs that have loan portfolio of over Rs 500 crore and missed the bus include Sonata Finance, Satin Creditcare and Grama Vidiyal.
Other prominent names who failed to make it include Arohan's parent IntelleCash, Repco Micro Finance Ltd etc.
A big miss for NBFCs
AU Financiers was the only NBFC to get the nod as two other big names missed out. One of them was IIFL Holdings Ltd (formerly India Infoline). Fairfax had recently offered to hike stake in the Carlyle backed company for Rs 1,621 crore. Dewan Housing Finance Corporation Ltd. was another NBFC that got left out.
Biggies who failed
Unlike payments bank, where RBI granted approval two individuals- Vijay Shekhar Sharma (Paytm) and Dilip Shanghvi (Sun Pharma)- it did not entertain any application from individuals for small finance banks. It was a big blow for Collin Timms who runs a cooperative bank called Guardian Bank in Bengaluru. K Cherian Varghese, former chairman and managing director of Union Bank of India and Corporation Bank, also lost out on the race to secure a licence.
CFOs who couldn't be bankers
While three former CFOs of two large IT companies Wirpo and Infosys applied for a licence under one name, they couldn't make the cut as well. Former Infosys CFOs and board members V Balakrishnan and TV Mohandas Pai together with former CFO and board-member of cross-town rival Wipro Suresh Senapaty had applied for a small finance bank licence.