Madhav Bhagat and Shashank Bijapur, co-founders, Spotdraft
Despite being an important part of everyday dealings for most businesses and big-ticket purchases, negotiations and drafting of contracts can be tricky. Moreover, oversights can lead to unnecessary costs or loss of revenue in the long run, and can end up being a drain on company resources.
Enter SpotDraft, an artificial intelligence-powered platform that uses advanced machine learning algorithms to automate drafting and negotiating of legal contracts.
The Gurgaon-based startup, run by Draft Spotting Technologies Ltd, provides solutions to complex legal dealings, including drafting, managing and storing paperwork online, analysing contracts and automating invoices, besides sending reminders and offering expert advice on legal compliances.
Launched by Harvard Law graduate Shashank Bijapur and former Google Classrooms tech lead Madhav Bhagat, SpotDraft not only makes life easy for users, but is also Goods and Services Tax-compliant. "We saw a huge opportunity in the legal sector, given that not too many people have been looking to drive value into this estimated $8-billion market through innovation," said Bijapur.
The duo had a chance meeting at a Diwali party organised by a common friend in November 2015.
While Bijapur, then an associate at White & Case LLP, working on corporate law deals in New York, was thinking about automating legal paperwork to ease the process and weed out inefficiencies, Google executive Bhagat was considering heading home to launch his own venture.
The two quickly caught on to the idea of floating a startup jointly. "Lawyers spend time creating new paperwork in spite of working on similar deals all the time. Sometimes these documents can be plagued with inefficiencies and have to be checked again. What if we could help reduce time and cost to draw up these kind of paperwork?" Bijapur told Bhagat.
Subsequently, the two moved to India and started developing the infrastructure and technology for their startup in the last quarter of 2016. By January 2017, Draft Spotting Technologies was incorporated to launch the legal-tech artificial intelligence-powered software stack SpotDraft.
SpotDraft, according to the founders, is best described as an end-to-end contract lifecycle management platform. "Think of it as a software that will help anyone draft legal documents easily after taking in the relevant inputs on the type of document to be made," said Bijapur, adding that it could draft a document in 10 seconds and also send GST-compliant invoices and payment reminders.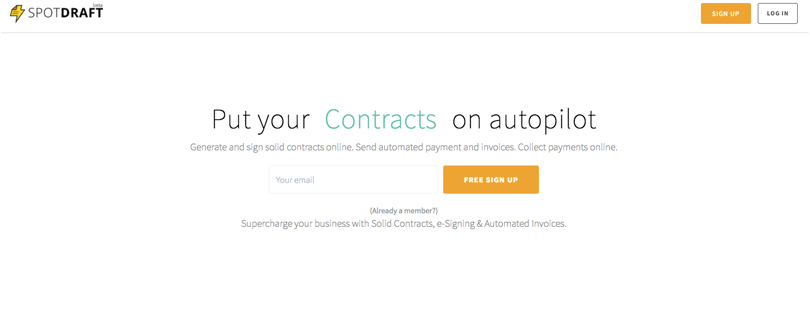 The artificial intelligence-driven engine can also analyse and predict the effectiveness of a contract or identify loopholes in it. "If you hover on any part of the legal document with the help of the cursor, the AI engine reads and detects the legal code and then simplifies the result for the user," Bhagat added.
"Right now we are providing the software for free as we want to train our AI engine by feeding more data into it. This will help us achieve more accuracy on reading legal compliances and loopholes." The AI engine has already been fed with millions of zeta bytes of data, he claimed.
The SpotDraft founders are willing to invest some more time to plug the loopholes in the system, drawing from the experiences of other such tech-driven platforms in collating and analysing data for error-free operations.
For instance, IBM's Watson AI which was integrated by the oncology department of Manipal Hospital took around one year to match the accuracy of a doctor's response on how to treat different types of cancer.
Target base; revenue model
So far, most users of the software have been either freelancers or small businesses. "Over 60% of our users are freelancers. SMEs on the platform account for 30% and nearly 10% are large corporates," said Bijapur, adding that the company had processed 8,500 contracts and have clocked nearly 4,500 signups in the past 11 months.
"Our freemium model can not only cater to large organisations, but also freelancers and startups. We are going to offer the basic contract types and workflows for free and will only charge for workflows that are applicable for later-stage and larger companies."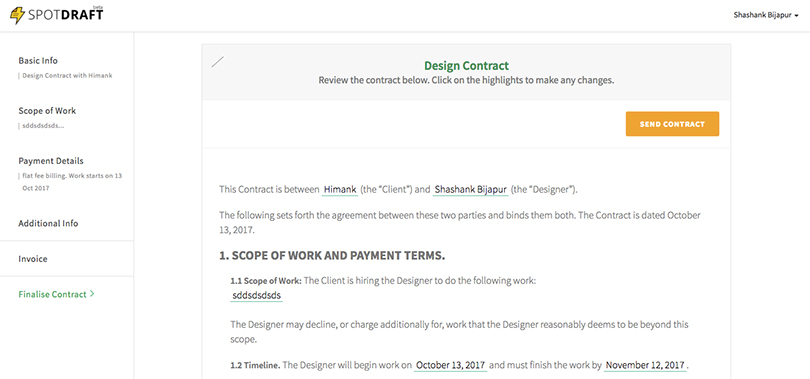 While SpotDraft users get employment and rental workflows for free, key managerial employee workflow, which includes regulatory filings, is a paid service. "We also have sector-specific workflows, including for VCs and startups. These include the founding stage documents for free, but the funding and growth-stage documents fall under a paid plan."
Bhagat said that they were also "providing various third-party integrations such as the use of LinkedIn to track non-competes and linking with of enterprise resource planning or accounting software for bookkeeping". "These will be payable per integration as the value is much more easily quantifiable and it also allows users to choose and pay à-la-carte."
The founders expect most business-to-consumer customers to be covered by their free plans. "For B2B customers we expect them to pay for a higher plan, which includes multiple entity and user features. In addition, we also have enterprise features like on premises deployment and single-sign on which we are going to charge for separately," Bijapur added.
Bhagat and Bijapur had put in about Rs 15 lakh to start the company. Subsequently, in October, it raised $550,000 (Rs 3.5 crore) in a seed round led by Hunch Ventures. The other investors included, Japan-based Spiral Ventures, formerly IMJ Investment Partners, 500 Startups, Singapore Angel Network and Citrus Payments, besides Cube founder Satyen Kothari.
"We are looking to raise $2 million in Series A by the end of 2018 as we are looking to expand our services to overseas markets such as Hong Kong and Singapore," said Bijapur. The startup is looking to break even in the next 18-24 months.
Of late, the legal-tech space has garnered investor interest and a number of players, such as Vakilsearch, LegalRaasta, MyAdvo, and LawRato, have raised money.
While Mumbai-based legal-tech firm Legasis Services Pvt. Ltd acquired research and advisory firm EthicsIndia in September, Legal Raasta Technologies Pvt. Ltd, which provides legal services to SMEs, entrepreneurs and professionals, raised nearly $5 million in a Series A round from Delhi-based venture capital firm Impanix Capital in May.