"The road ahead is long and not easy. The mountains ahead are tall ones. But there is no other way but to get there and go beyond. If we don't, we will be made obsolete by the tidal wave of automation and technology-fuelled transformation that is almost upon us," the concluding lines of Infosys chief Vishal Sikka's New Year musings point to the challenges faced by India's $150-billion IT industry.
The responses to these challenges—fast-paced changes such as automation that threaten its labour arbitrage-centric business model, the protectionist sentiments sweeping across key markets after the acrimonious US presidential elections and the UK's referendum to leave the European Union, and a subdued outlook on global technology spend—will define the industry's future, especially in 2017.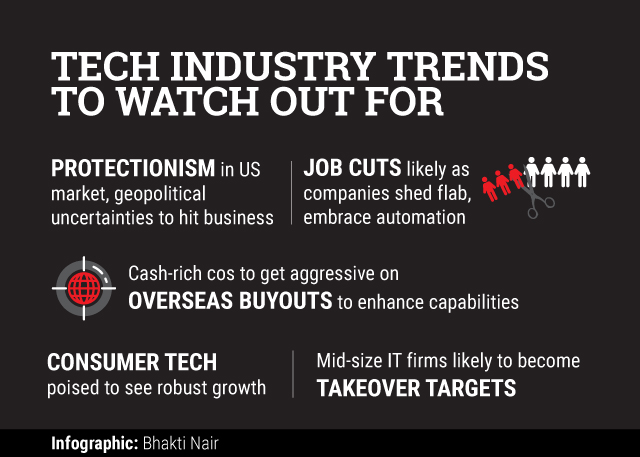 US President-elect Donald Trump had given enough indications during his campaign that the visa programme for technology workers, including the H-1B, would be put under tough scrutiny. Proving it true, two US Congressmen have reintroduced a bill that seeks to curb the use of H-1B visas, Hindustan Times reported on Thursday.
The new bill proposes two major changes to the 'Protect and Grow American Jobs Act'. First, workers on the H-1B be paid a minimum of $100,000, up from $60,000 currently and, second, removal of the Master's degree exemption to the cap on the number of visas available, the HT report said.
That could be a body blow for Indian IT majors like Infosys, TCS and Wipro, since as much as 80 percent of US-based workers for these firms rely on H-1Bs, a recent Reuters report had said.
The US media has also reported that a US Congresswoman plans to introduce another bill to regulate H-1B visas. The bill will seek to allocate the limited number of work permits to companies that pay the most, instead of relying on the current lottery model.
The anti-migration stance of the impending Trump administration is just one of the threats. The geopolitical uncertainties spilling over to ethnic polarisation, skirmishes and military action, a challenge that is not limited to any particular industry or economy, will have a palpable impact on IT-BPO services that depend heavily on global businesses.
"On the eve of the coming New Year, I must say that the year 2016, seems to have raised questions and obstacles, on the path to a better world, which cannot be ignored. These questions have arisen from developments in the political arena, from the fast unfolding environmental crisis and from forces that want to shape the world in to a place of exclusion, conflict and suspicion," Wipro chairman Azim Premji wrote in his New Year message to employees. "Once we start addressing these issues head on rather than ignoring them, I am confident that we will continue to make progress," he added.
These multi-faceted developments demand Indian IT companies to reinvent themselves, as Infosys's Sikka has emphasised time and again. "By all indications, the future promises to be even more disruptive, especially for our own business, which is impacted by the multiple factors of technological and geo-political disruption. We will not survive if we remain in the constricted space of doing as we are told, depending solely on cost-arbitrage, and working as reactive problem-solvers," he had said in a letter to his employees.
"2017 is going to be a volatile year for the Indian IT industry," says Sanchit Vir Gogia, founder and chief analyst, Greyhound Research. "The pace of technological changes is very high and it will lead to substantial job cuts. The companies will try to be a lot leaner," predicts Gogia.
Acquisitions overseas, consolidation at home
Indian IT services companies have been facing competition from upstart players with highly specialised skill sets based in advanced markets, especially in areas such as cloud services and analytics. The cash-rich Indian IT companies are responding to this by acquiring companies overseas and thereby enhancing capabilities. Wipro spending nearly $1 billion in acquisitions last year is a case in point. In 2017, we are likely to see big boys of the Indian IT industry loosening their purse strings to make large acquisitions. "They will look at companies with sizeable revenues," says Gogia.
While the top five Indian IT companies struggle to keep up the growth momentum, the problems faced by mid-tier IT companies are even deeper. Most of them do not have long-ranging contracts and that makes them potential takeover targets.
Consumer tech to drive growth
According to industry body Nasscom, IT-BPO alone does not reflect the diversity of India's tech industry and startups will boost the next wave of tech growth in the country. It estimates this piece of tech industry—internet businesses—has a size of $17 billion and is growing at 20 per cent annually on the back of rising digital consumption.
"The Indian consumer internet sector saw moderate annual growth of 29% in 2016 compared to 66% in 2015. It is projected to become a $65-billion market by 2017, growing at a rate of 44%," according to RedSeer Management Consulting.
"The business case for e-commerce is very strong," said Arvind Singhal, chairman, Technopac, a consulting firm focussed on the retail industry. And among all the homegrown e-commerce players, Flipkart has a better chance to scale up, he added.