India's information technology industry strived to find newer opportunities and markets in 2016 as geopolitical uncertainties, a challenging business climate and technological shift clouded outlook.
Slowing growth in developed economies has forced companies to cut spending on outsourcing projects for Indian IT exporters while Britain's shock vote to leave the European Union and Donald Trump's surprise win in the US presidential elections have made matters worse.
The headwinds prompted Indian IT service industry body Nasscom to lower its growth projections for the current financial year to 8-10% in November from 10-12% forecast earlier.
Infosys Ltd, India's second-largest software services exporter, slashed its guidance twice this year. Its forecast is now 8-9%, a significant climb-down from its initial estimate of 11.5-13.5% growth.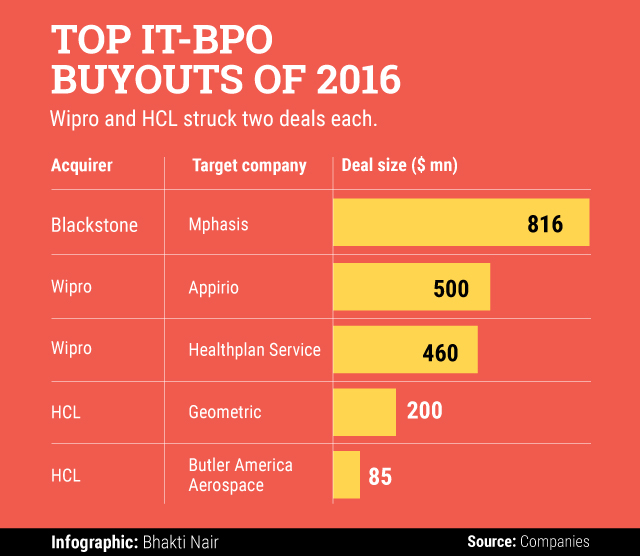 The pressure on IT companies was evident on the stock exchanges. The S&P BSE Information Technology, the sector index that captures the stock movement of IT companies, declined 9.4% in 2016 while the BSE's 30-stock benchmark Sensex was little changed.
The downward revision of growth projections, muted quarterly results and the erosion of stock value reinforce the theory that the Indian IT industry's boisterous growth on the back of labour arbitrage is more of a thing of past.
Nasscom president R Chandrasekhar has said that global uncertainties like Brexit, US election dynamics, currency volatility and slowdown in discretionary spending are impacting growth.
Top IT companies' financial performance for the second quarter, which is normally a robust period, is a case in point. Tata Consultancy Services Ltd, the No.1 exporter, reported its slowest ever quarterly growth. No.3 Wipro reported an 8% year-on-year fall in profit. Infosys lost a marquee client, Royal Bank of Scotland, which resulted in some revenue loss and cost a few thousand jobs.
TCS CEO and managing director N Chandrasekaran, commenting on the second-quarter performance, called it an "unusual quarter" marked by uncertainty in the environment and cautious spending by clients.
In a recent media interaction, IT industry veteran and Infosys co-founder Kris Gopalakrishnan had said that Indian IT companies should focus more on markets such as China and Japan and embrace new generation technology-led services to fight slowdown.
Indeed, large IT companies have realised that what is happening is not just a temporary blip in their performance but that it likely portends the erosion of the industry's value proposition as a low-cost work destination.
This has prompted many of them to invest in new technologies and make more on-sight hiring with a view to offering value-added services to clients. The Indian IT companies have started to dip into their huge cash chests to buy companies and enhance capabilities.
"The world market is leaning towards protectionism," said Sanchit Vir Gogia, founder and chief analyst, Greyhound Research. "Increased automation is taking away business from IT service companies and there is competition from a new set of service providers in areas such as cloud and analytics."