Tata SIA Airlines Ltd (TSAL), a joint venture between Tata Sons and Singapore Airlines, has christened its proposed full-service carrier as Vistara, according to a statement on Monday.
Headquartered in Delhi, Vistara is expected to start commercial operations in October this year and will take delivery of its first plane, an Airbus A320-200, next month. The company plans to increase the fleet to 20 aircraft, including A320neos, by the end of the fifth year of operation, the statement said.
"Today is a momentous day for the Tata group and Singapore Airlines. Vistara will redefine the way we travel in India. I can confidently say that Tata's and SIA's legendary hospitality standards and service excellence will make Vistara a natural choice for passengers," Prasad Menon, chairman of TSAL, said.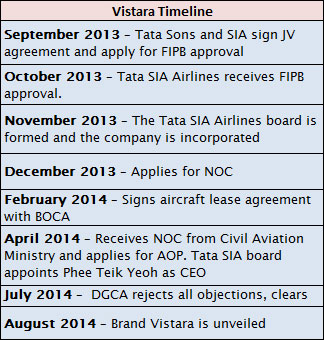 The JV is led by Phee Teik Yeoh, CEO of TSAL.
"From a global investor's perspective the Indian aviation sector has a lot of potential for growth and I am delighted that SIA now has a fruitful role to play here," Swee Wah Mak, director, TSAL, and executive vice-president (commercial), SIA, said.
The brand Vistara is derived from the Sanskrit word 'vistaar', which means 'limitless expanse', and draws inspiration from the brand's domain—the 'limitless' sky. Its logo is derived from a 'yantra', a perfect mathematical form that reflects the unbounded universe.
Bangalore-based brand consulting and design company Brand Union Ray+Keshavan has designed and created the logo and brand name of the company. The uniforms of crew and staff have been designed by the well-known duo, Abraham & Thakore.
Tata Sons joined hands with Singapore Airlines on September 19, 2013, to launch a full-service airline in India with an initial investment of $100 million. Presently, SIA holds 49 per cent stake in the JV, while the rest is being held by Tata Sons, in line with FDI norms which limits foreign investment in domestic aviation sector to 49 per cent.
Initially, the JV will operate domestic flights, but it also looks to expand to international full-service flights. As per current norms, Indian carriers cannot fly on international routes before they have completed five years of domestic operations, though there are moves to strike off this rule.
This is Tata Sons' second domestic aviation joint venture. It also has a minority stake in a venture with Malaysian budget carrier AirAsia and another local business partner Arun Bhatia. AirAsia has started operations recently.
(Edited by Joby Puthuparampil Johnson)