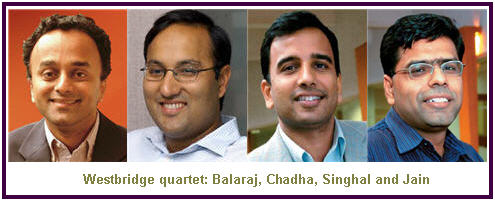 The association of Sumir Chadha, KP Balaraj, Sandeep Singhal and Surendra K Jain go a long way. The four are part of the original team of Westbridge Capital Partners (WBCP) which  merged with Sequoia Capital in 2006 and is now turning independent again.
WBCP was founded by Chadha, Balaraj (popularly known as KP) and Raj Dugar (who later left) and the three later roped in Singhal and Jain. Chadha and KP's association go all the way back to Harvard Business School (HBS), where they were in the Class of 1997 (incidentally they were the batchmates of Chryscapital's Ashish Dhawan and his former colleague Raj Kondur).
After school, Chadha and KP ended up working at Goldman Sachs, but in different divisions. Chadha was part of the venture group in the US, while KP worked in the private equity group and split time between Hong Kong and New York. The other founder Dugar was also at Goldman then. Prior to joining HBS, Chadha worked with McKinsey and was part of the team that set up the consultancy's operations in India in 1994. 
Chadha, son of an IFS officer, KP, a former national junior champion in lawn tennis (he went on a tennis scholarship to the US), nd Dugar decided to come back to India in 2000 to set up their entrepreneurial venture - WestBrdige Capital Partners.  Their idea was to set up a US-India venture capital firm with offices in Bangalore and Silicon Valley, both the centres of tech innovation and start-ups. They raised their first fund in just three months. The fund closed at $140 million, and even had Goldman as an investor.
The founders roped in two more to their team -  Sandeep Singhal and Surendra Jain, who are now part of the core team. Menawhile, Raj Dugar left WestBridge in 2003 to join as a director at the Carlyle Buyout Group in Mumbai. He later left Carlyle to head up Fidelity's PE arm. Rishi Navani - who co-founded Matrix Partners India along with Avnish Bajaj - was also part of the original team, but Navani left the firm in 2005.
Singhal, a graduate from IIT Delhi and an MBA from the Indian Institute of Management, Ahmedabad, was an engagement manager with The Boston Consulting Group before WestBridge. Singhal started his career as a management trainee with Hindustan Lever Limited, where he was involved in 11 product launches targeted across different customer segments.
Surendra K. Jain was a gold medalist from IIM, Ahmedabad. He had co-founded MeraNet, an application service provider offering contact management solutions to wireless service providers and portals, when he was on the campus. It later shut down. "It was a Web 2.0 company way ahead of its time," the IIT Delhi engineer told Business Today in an interview in 2005. Previously, Jain had worked with the Pentium II design group at Intel in the US and the semiconductor product group at Motorola.
Now after five years of partnership with Sequoia Capital, the four are back to independent status. What next? It may not be difficult for them to raise a large fund considering the firm has made several successful investments and has made many exits as well.