Online retailer Snapdeal may have been busy preparing a new strategy to convert into a pure-play marketplace where only third-party merchants will sell products but it has yet to reach out to those who hold the key to success—the sellers themselves.
Snapdeal founders Kunal Bahl and Rohit Bansal had, after scrapping merger talks with bigger rival Flipkart last month, said that the company would tweak its business model and build a zero-inventory, seller-centric marketplace dubbed as Snapdeal 2.0.
The online seller groups also say that the company has yet to initiate any measures to win back their confidence and that they do not have any insight other than what they have learned from media reports.
"There has not been any official communications to sellers on the plan for Snapdeal 2.0 so far. Apart from the basic details which were published in media, sellers do not have any other information," said a spokesperson for the E-Commerce Sellers Association of India (ECSAI).
In a statement released earlier this month, Snapdeal said it had made "significant progress" towards executing its new strategy by achieving a gross profit in July. It claimed that the new business model, which was rolled out a few months ago, was already profitable at the net margin level.
A person with direct knowledge of the company's plans had previously told VCCircle on the condition of anonymity that this would be a seller-centric marketplace similar to Alibaba-owned Taobao in China and eBay in the US.
The sellers, however, are in the dark.
"There is no response from Snapdeal regarding the dues and the issues that we have time and again raised with them via email, through calls, tweets and also on public platforms on our forum," a spokesperson for the All India Online Vendors Association (AIOVA) told VCCircle. "Our sellers do not care whether Snapdeal is merged, sold, or run as it is."
Responding to queries from VCCircle regarding the sellers' complaints, a spokesperson for the e-commerce firm said: "Snapdeal will continue to provide an open marketplace opportunity, with an emphasis on making digital commerce simple, transparent and cost-effective for sellers."
Lost market share and confidence
The AIOVA has a little over 2,000 members and has been very vocal in its criticism of Snapdeal. Its spokesperson said the e-commerce firm has lost the trust of sellers and that sales had been falling since January 2016.
The association acknowledged that Snapdeal used to be the best marketplace for sellers until the beginning of 2016, but then other marketplaces began capturing significant market share. Snapdeal lost out with the sellers because of its flawed policies, seller mismanagement, policy changes and a step-motherly attitude towards sellers, the AIOVA official said.
The AIOVA's allegations hold true to the findings of a study by research and advisory firm RedSeer Consulting, which said Snapdeal's market share in India's e-commerce industry fell from about 26% in September 2015 to 4% in March 2017.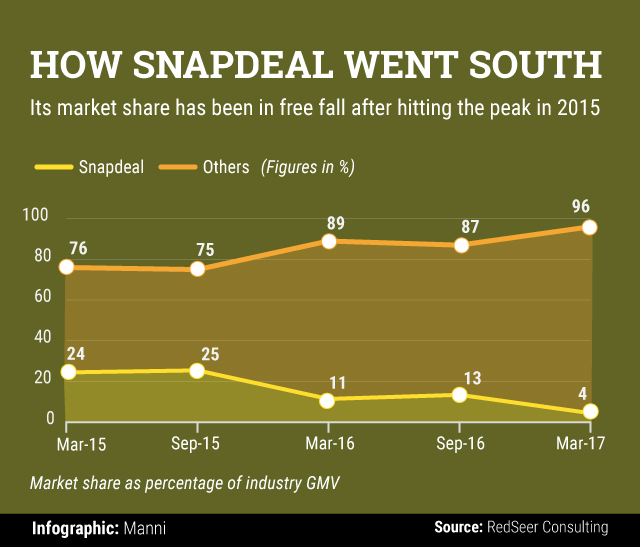 The ECSAI said that about 90-95% of its members had stopped selling on Snapdeal due to problems in payments and other issues. "A few months ago, we had issued an alert to our seller community to pull off inventory from Snapdeal because of the events that it was going through. But now it's near to nothing and we're not hearing any such feedback from our sellers," the spokesperson said.
The official added that the sellers were optimistic about the idea of a pure-play marketplace model.
"We welcome the pure-play model as this can motivate small new business to start selling online... We think payment was a problematic area and pay-outs from Snapdeal were getting delayed at times. But with current execution, it doesn't seem to be an issue," he said.
However, it will not be easy for Snapdeal to win back the confidence of sellers.
The AIOVA alleged that Snapdeal has not made any efforts to assure sellers. It said that it had made numerous attempts to reach out to Bahl and other senior executives at Snapdeal to resolve sellers' concerns, but the company failed to take any constructive steps.
"In the current flow of events, we see no future for sellers on Snapdeal 2.0 without gaining trust of sellers," the AIOVA said.
The ECSAI official concurred. "It will be a huge task for Snapdeal to bring back the sellers," he said. "We believe that this change in the operation model might result in a better-focused Snapdeal. But we really don't know how they are going to resolve basic issues related to returns, low order volumes and more."