Sheela Foam Ltd made this year's second-best debut on the stock exchanges on Friday, as investors queued up to buy shares of the company that makes mattresses and bedding products under the Sleepwell brand.
Shares of Sheela Foam began trading at Rs 860 apiece on the BSE, 18% higher than the initial public offering price of Rs 730, stock-exchange data showed. The shares climbed higher after listing to close at Rs 1,032, up 41.4%, giving the company a market value of Rs 5,034 crore ($745 million).
The mattress maker joins a host of companies such as business services provider Quess Corp, RBL Bank, mortgage lender PNB Housing Finance and diagnostics firm Dr Lal PathLabs that have made strong debuts this year. In fact, Sheela Foam's debut is the second-best in 2016 and the fourth-best since 2015, showed data by Capitaline Plus.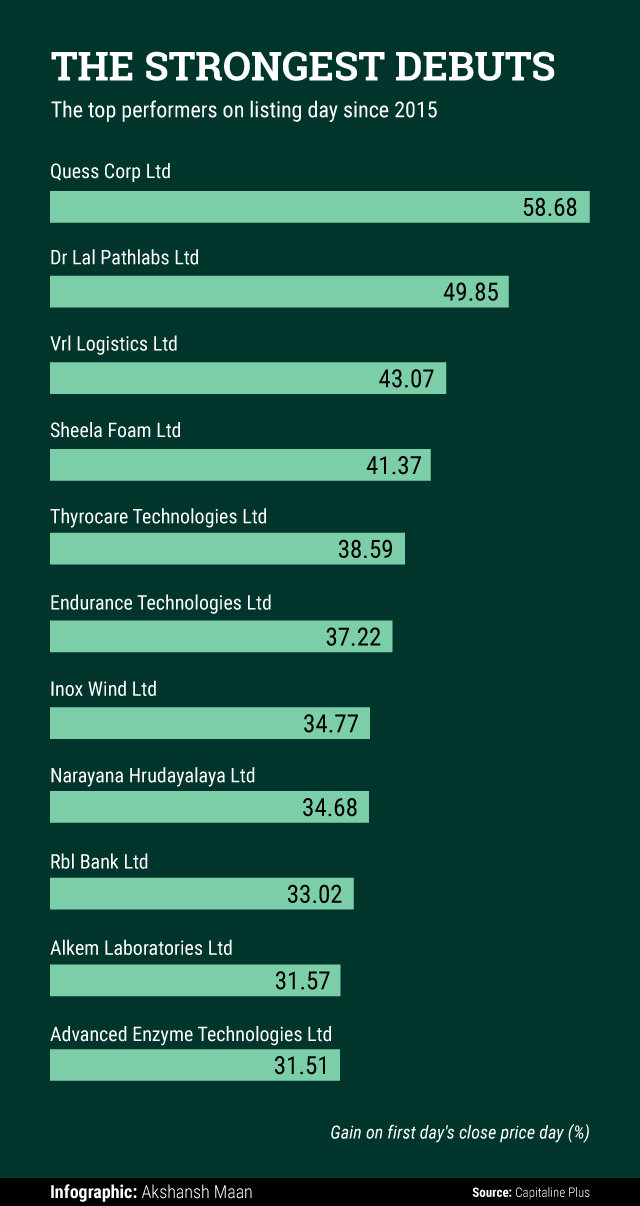 Quess Corp, which listed in July, has logged the best listing-day gains for two years at almost 59%. Dr Lal Pathlabs Ltd and VRL Logistics Ltd are second and third, respectively, in the list of top performers since 2015.
Ghaziabad-based Sheela Foam is the 21st company to list on the main board this calendar year. Only five of these 21 fell on the listing day, the Capitaline data showed.
The robust start came after the IPO was subscribed a little more than five times earlier this month. The IPO had sailed through on the final day of the offering after making a poor start. The issue was covered just 1% at the end of day one and 6% at the end of day two.
The poor show in the first two days was worrisome for Sheela Foam because late last month another IPO was scrapped after it failed to find institutional investors despite reducing the offer size and extending the issue period.
The IPO of GreenSignal Bio Pharma Ltd was the first after the government kicked off the demonetisation drive that banned Rs 500 and Rs 1,000 banknotes to combat graft, forgery and tax evasion but has led to a severe cash crunch in the economy. The company withdrew the IPO after failing to garner sufficient bids.
Sheela Foam's IPO entirely comprised an offer for sale by one of the promoter companies, Polyflex Marketing Pvt Ltd, and the firm did not raise any money from the IPO. The overall issue was worth Rs 510 crore ($77 million). After the issue, the promoter Gautam family is likely to retain around 86% stake in the company.