Atul Dua, co-founder of law firm Seth Dua & Associates, is joining Advaita Legal along with a team of 20 lawyers.
While Amit Mehta, Sushil Mehta and Subodh Sadana are joining Advaita Legal as senior principles, VK Agarwal is joining as senior attorney.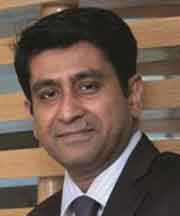 An alumnus of a Faculty of Law, University of Delhi, Dua is also a chartered accountant. He was previously part of tax and legal practices of KPMG and Coopers & Lybrand (now PwC). He co-founded Seth Dua & Associates along with Sunil Seth in 1998.
"It is time we leveraged our strength to create a law firm which can deliver tax and legal services meeting global standards," said Dua.
"Advaita Legal has taken the first step towards inorganic growth. Atul and Sujit will form a synergy to help Advaita Legal achieve its vision," said Bithika Anand, founder and CEO of consultancy and management advisory firm Legal League Consulting.
This is the second instance in a year when an entire team of lawyers has moved with a partner. In April, Amit Khansaheb, Siddhartha Nair and Kaushik Mukherjee of law firm BMR Legal joined Shardul Amarchand Mangaldas & Co along with close to 30 lawyers.