Venture and growth capital investor Sequoia Capital India has put in Rs 40 crore or $7.5 million in pathology chain Suburban Diagnostics India Pvt Ltd – its fourth investment in the healthcare delivery segment. The funding came when private equity deals in healthcare services and equipment space have reached a record high in 2012 as investors look at a large, recession-proof market with minimal regulatory intervention.
According to VCCEdge, the data research platform of VCCircle, there have been 30 private equity investments in healthcare services and equipment companies in 2012, worth $755 million.
Mumbai-based Suburban Diagnostics was set up in 1994 by Dr Sanjay Arora and currently operates 14 centres in Mumbai and Pune. With this round of funding, the company would look at both network expansion and equipment upgradation in the existing centres.
Diagnostic services happen to be a fast-growing, large market and the potential tests that can be offered to a patient are on the rise, according to Sequoia Capital's managing director VT Bharadwaj. Post-deal, Bharadwaj and GV Ravishankar will join the board of Suburban Diagnostics.
Suburban Diagnostics' service portfolio covers pathology, digital X-ray, sonography, stress test, ECG, 2D echo, Color Doppler and preventive health check-ups. The company follows a B2C business model, compared to similar businesses like Thyrocare Technologies, which follows a B2B model.
Some of the diagnostic chains which have also raised funding this year include Thyrocare Technologies, which got $22 million from Norwest Venture Partners, and SRL Ltd, which raised $66 million from International Finance Corp and NYLIM Jacob Ballas India Fund III.
Making early-growth bets in healthcare
Sequoia Capital has been making early-growth bets in the healthcare delivery space and this is its fourth such investment. Sequoia has been the first institutional investor to invest in firms such as Glocal (a rural healthcare startup), Moolchand (a Delhi-based hospital) and Vasan Healthcare (an eye care chain).
"Healthcare service has been of interest to us for the last 6-7 years and we are seeing innovation in terms of business model and approach to end-customers by entrepreneurs in India," said Bharadwaj.
According to him, when Sequoia Capital first invested in the eye care chain Vasan Healthcare in 2009, it was a unique business model across the globe. But earlier this year, the Government of Singapore Investment Corporation (GIC), the sovereign wealth fund of Singapore, also invested $100 million in Vasan in one of the largest healthcare deals in India. The deal also gave Sequoia a partial exit.
"Hopefully, if we make enough interesting investments and those companies become large, they can raise bigger rounds in a few years like Vasan did," said Bharadwaj. He added that Sequoia is open to all segments in healthcare, but the companies should have a "capital-efficient model, which has low reliance on real estate and can scale very fast while maintaining profitability."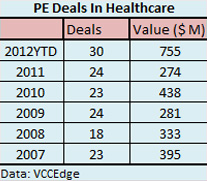 Deal-making in healthcare
PE investments in healthcare have reached a record high on back of several large investments in companies like Manipal Hospital, Vasan Healthcare, CARE Hospital, DM Healthcare and Nova Medical. But in terms of volume, 2012 has also seen a record (see table).
The Indian healthcare market is likely to double by 2015 and reach $100 billion, says ratings agency Fitch. According to the 12th Five Year Plan, the Indian government will boost public spending in the healthcare sector to 2.5 per cent of the GDP over the next five years, from the current 1.4 per cent. But the opportunity in India, compared to its Asian peers, remains large as in terms of per capita spending, India's $43 falls far behind Sri Lanka's $87, China's $155 and Thailand's $261.
(Edited by Sanghamitra Mandal)