Indian shares extended losses for the third consecutive week as investors turned cautious after the government hiked securities transaction tax (STT) on futures and options contracts, while lingering concerns of contagion in the global banking sector weighed.
The Nifty 50 index closed 0.77% lower at 16,945.05. The S&P BSE Sensex fell 0.69% to 57,527.10. Both the benchmarks logged weekly losses of nearly 1%.
All 13 of the major sectoral indexes declined, with the heavyweight financials index losing 0.69%. Forty-one of the Nifty 50 constituents fell on Friday.
"There is lack of buying across the spectrum," said Saurabh Jain of SMC Securities.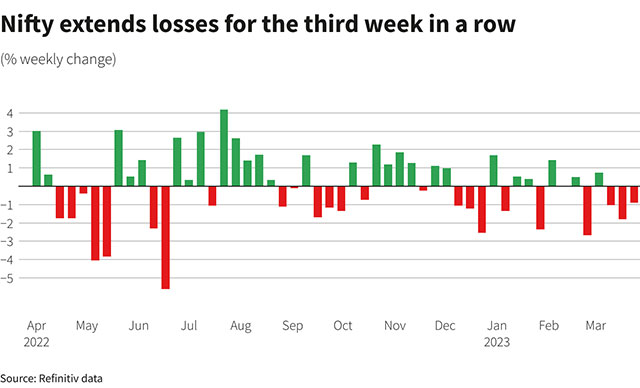 "In a sideways market with a negative bias, one finds very few avenues of solace, with only 25% of stocks rising."
The benchmarks traded marginally lower for most of the session before sliding sharply in the final two hours. The slide came after the government hiked the STT on futures and options contracts, effective April 1.
Income from trading in derivatives is a capital gain for foreign investors, analysts said. "Some foreign investors may trade less in derivatives and some trading could shift out of India as well," said Shyam Sekhar, chief ideator and founder, iThought, a Sebi-registered investment advisory firm.
Traders are taking a "cautious approach" as they await further clarity from the finance ministry, said Rahul Sharma, market strategist and head of research at Equity99.
Besides, shares of asset management companies also fell on Friday after the finance minister announced amendments to the Finance Bill to treat returns on debt mutual funds as short-term capital gain, which is likely to eliminate the long-term tax benefits on such investments.
"As an asset class, debt mutual funds will get less attractive. Fixed deposits in banks may become more popular," said Amit Kumar Gupta, founder and chief investment officer at Delhi-based equity research firm Fintrekk Capital.
HDFC Asset Management Co, UTI AMC and Aditya Birla Sun Life AMC lost 4% each.
Biocon fell 4% after some analysts flagged pricing concerns for some of the company's insulin biosimilars in the United States.