Capital market regulator, Securities & Exchange Board of India (SEBI) has announced some major reviews in its policies and new initiatives today. It has announced the removal of restrictions on the FII holding in Participatory Notes. It has also announced policy measure to encourage SME Exchange and has allowed specific institutions to increase their stake in stock exchanges.
Relaxation In P-Note Norms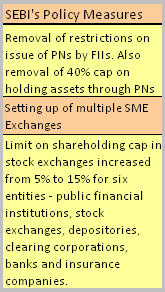 In a move aimed at easing foreign fund flow into the Indian stock markets, capital market regulator SEBI has removed the cap on overseas fund flow through offshore derivative instruments. Earlier, in the wake of excessive liquidity in the stock markets, foreign institutional investors (FIIs) were barred from owning more than 40% of their assets in P-notes(which are offshore derivative instruments-- ODIs) and were asked to unwind their holdings in India to comply with the cap within 18 months (which would have expired in March 2009).
P-notes are financial instruments issued by FIIs to unregistered overseas investors who cannot directly invest in equity market. SEBI had imposed the cap one year back and had met with stiff resistance from investors.
The proposal which was disclosed on October 16, 2007 led to a free fall with Sensex losing 1,700 points in early trade on October 17 last year. The markets later recovered on positive statements from the finance minister and went on to hit its all-time high in January 2008.
"A lot has changed since the restrictions on PNs were imposed," said SEBI Chief CB Bhave today. The SEBI chief also added that he will keep a watch on global markets before reviewing norms. He also added that SEBI is not looking at emulating the short sales ban which has been imposed in other markets.
The latest move by SEBI could give a much needed fillip to the Indian stock markets. The benchmark market index Sensex, was down by 724 points and closed at 11,801 today, its lowest level since September 2006.
SEBI has also said that it needs to review the structure of FII norms and unnecessary curbs need to be removed. However, there is a big question mark whether these changes would lead to fresh fund flow from institutions into India. This is because global institutional funds have been pulling out of India and also other emerging markets owing to the global credit crisis which has led to big fund houses declaring bankruptcy or sell-offs.
As per a VCCircle analysis US fund houses have been on a selling spree while the European funds were buying in India. But over the last one week even European banks have started revealing their soft underbelly which could shrink fund flow from Europe as well going forward. In that case the easing of norms related to P-notes may not lead to any major inflows.
Raising Holding Limit In Stock Exchanges
SEBI has allowed certain categories of institutions to increase their holding in stock exchages from the present 5% limit. The SEBI Board has decided to enhance this limit from 5% to 15% in respect of six categories of shareholders, namely, public financial institutions, stock exchanges, depositories, clearing corporations, banks and insurance companies.
The move is likely to increse the competition among the bourses in India and could see foriegn stock exchanges (New York Stock Exchange, Deutsche Borse and Singapore Exchange) who hold stakes in Indian exchanges increase their stakes. It can also lead promotion of new exchanges as the new entities would have much more control in these exchanges and would be much more interested in development of these exchanges.
SEBI has also moved forward with its intention of forming SME exchange/s. The statement issued by the regulator said that - "In recognition of the need for making finance available to needy small and medium enterprises, the Board decided to encourage promotion of dedicated exchanges and/or dedicated platforms of the exchanges for listing and trading of securities issued by SMEs. Multiple exchanges or platforms would provide the necessary competition in this space."
This is a change in stance from SEBI from when Damodaran was heading SEBI. Then SEBI had announced that only a single SME Exchange would be set up in contarast to the recommendation of multiple exchanges now.
SEBI plans to come up with a framework for recognition and supervision of such exchanges/platforms. The statement also added that the enterprises with a post issue paid up capital of upto Rs. 25 crore would be listed on such exchanges / platforms and trading lot would be Rs 1 lakh. The minimum ticket size for transactions on the SME exchange would ensure that only high networth individuals were eligible, so that uninformed investors do not lose money.
Bombay Stock Exchange had earlier launched a separate trading platform `IndoNext' for SMEs that did not work so well.