The Reserve Bank of India (RBI) is expected to cut rates again in the June 2 policy review and deliver another rate cut by the end of the calendar year, found a VCCircle survey. 
Eighteen of the 20 economists polled by VCCircle expect the central bank to slash repo rate by 25 bps to 7.25 per cent. The RBI has already cut rates twice this year by 50 bps as inflation has remained well below the central bank's target of 6 per cent.
While the RBI has been cutting rates, banks have refrained from passing on the benefits to consumers given their low profitability due to rising NPAs. The central bank in its last meeting in April had directed the banks that further rate cuts would be predicated on banks passing on benefits of lower rates following which banks cut their lending rates by 25 bps. 
While inflation has remained under control, the economy has been losing traction with industrial growth still subdued. Factory activity as measured by the HSBC PMI has also been slowing down making a stronger case for rate cuts.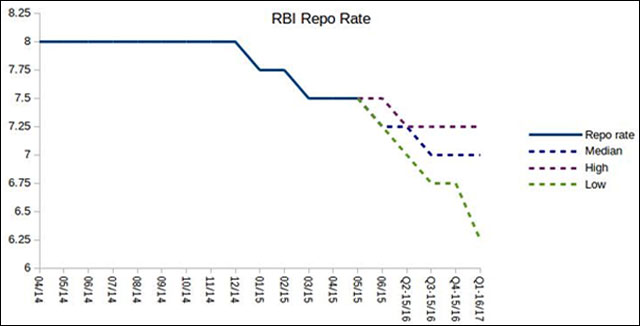 "I expect RBI to ease by 25 bps to use the waning space for monetary policy easing. There are mixed evidence on preconditions laid out by RBI—i.e. signs of monetary policy transmission, food prices and threats to disinflation, supply response from the government and signs of normalisation of US monetary policy. But this may still be sufficient or delivering residual monetary policy accommodation," said Abhishek Upadhyay, economist at ICICI Securities PD.