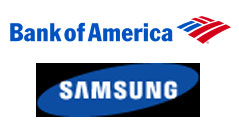 Qatar Holding has built small stakes in Bank of America and Samsung Electronics, two sources familiar with the matter said, as the wealth fund continues on its strategy of picking minority stakes in large global companies.
The fund, one of the world's most prolific investors, has a stake worth about $1 billion in Bank of America, while its Samsung stake is worth between $200-$300 million, the sources said, speaking on condition of anonymity as the investments have not been publicly disclosed.
BofA declined to comment and QIA could not be reached for comment outside working hours.
A Samsung spokeswoman in Seoul said the company is aware of Qatar Holding's recent purchase of its shares which is said reflects the fund's support for its management.
It did not comment on the value of the purchases.
In recent months, Qatar has picked up minority stakes in companies such as oil giant Royal Dutch Shell, jewellery maker Tiffany & Co and Germany's Siemens.
Buying smaller stakes means investors do not have always have to disclose ownership.
Qatar's strategy took an activist turn in 2012 when it demanded better terms from Glencore for its planned acquisition of London miner Xstrata, in which it had built up a stake of more than 12 per cent, forcing Glencore to eventually raise the share swap offer.
"Qatar has taken a view that equities are cheap as an asset class and it can commit a billion dollars or two in a large company and do away with any disclosure requirements," one source familiar with the fund's plans said.
"These are mostly financial investments and very unlikely to lead into a strategic transaction for the fund. Like any investor, they would seek to buy it cheap and sell it high."
Qatar Holding, the investment arm of Qatar Investment Authority (QIA), began buying BofA shares about two years ago, the Financial Times first reported on its website.
BofA's stock closed at $14.17, up 2 cents, on the New York Stock Exchange. A $1 billion stake at this price represents less than 1 per cent of BofA, which has a market capitalisation of about $151.2 billion, according to Thomson Reuters data.
It was not clear when the fund accumulated the Samsung stake. The smartphone leader has a market value of around $230.1 billion which makes the ownership considerably less than 1 per cent of the company.
Under newly appointed Chief Executive Ahmed Al-Sayed, QIA has been on an aggressive expansion spree, hiring bankers and senior executives with experience ranging from mergers and acquisitions in Asia to retail and luxury investments in Europe.
The fund hired Michael Cho, a former co-head of Asia mergers and acquisitions at BofA, to run its mergers and acquisitions division.
Three sources told Reuters in September that Qatar Holding had hired Ugo Arzani, most recently a BofA managing director in London, as its new head of consumer and retail investments.
The sources said QIA, worth more than $100 billion, was scouting for opportunities in Asia and the United States in a bid to reduce its exposure to Europe and diversify its investment portfolio.