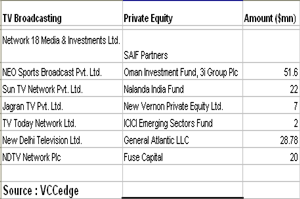 Providence Private Equity Partners and Standard Chartered Private Equity are the top contenders for a deal to acquire 40-45% stake in Multi Screen Media Pvt Ltd (MSM), the owners of Sony Entertainment Television, for a sum of roughly $250 million, VCCircle has learnt from its sources.
The two PE players are believed to be in the process of advanced due diligence. This comes nearly four months after MSM kicked off a fresh divestment process to facilitate exit for its Indian partners, who hold 32% stake in the company.
The process also includes a growth capital fund-raising in the region of around $70 million. MSM is attracting a valuation of around $500-600 million, said sources with a direct knowledge of the transaction. Other investors like Bain Capital, General Atlantic and Ashmore have also looked at this deal but are apparently not in the race now, they added.
Attempts to reach MSM spokesperson through phone calls and text messages elicited no response.
Currently, Sony owns 61% in Multi Screen Media while Capital International, Japan has 8% and the rest in the hands of Indian promoters including actor Jackie Shroff, Shemaroo Films MD Raman Maroo, MobiApps Holdings' Jayesh Parekh and World Media group director Sudesh Iyer. It is understood that Sony Corp will bring its stake down to 51%, if the deal goes through.
Broadcasting sector trackers, VCCircle spoke to, are of the view that the company may be in need for growth capital for its new sports channel. Also, SET has entered into an exclusive agreement with Yash Raj Films, where the latter will produce exclusive fiction and non-fiction content for SET starting January, which would see a substantial outflow of cash. Analysts also feel that the general entertainment channel will command premium valuation after January, the time when its GRPs (Gross Rating Point or a measure of the size of audience a media vehicle reaches out to) are expected to jump by 50%.
The top line of the broadcaster is roughly Rs 1,100–Rs 1,200 crore with its various formats contributing revenues in this order: SET MAX (Rs 600 crores including IPL), Sony (Rs 300 crores), SAB ( Rs 100 crores), AXN (Rs 100 crores) and ANIMAX ( Rs 100 crores).
The current pack of top Hindi general entertainment space reads like this: Star Plus, 100% subsidiary of News Corp; Colors, 50% JV between Network18 group and Viacom; Sony, 62% subsidiary of Sony Pictures, a division of Sony Corp; and NDTV Imagine, a 92% subsidiary of Turner, a brand owned by Time Warner.
Sony Entertainment Television (SET) got renamed to Multi Screen Media (MSM) in 2007. Sony Pictures Television networks business in India grew from one channel in 1995, Sony Entertainment Television (SET), to Multi Screen, a host of channels that now includes SET, MAX, SAB and PIX, SET Max, AXN and Animax.