In a trend that signifies the rise in the stature of professionals running publicly-listed companies, three out of the five highest paid executives in India in the previous two financial years were employees. This is in stark contrast to the trend in the past when employees did not figure even among the top 10 best paid executives in the country.
In 2015-16, for instance, the promoters of Chennai-based Sun TV Group - the husband and wife duo of Kalanithi and Kavery Maran - were the only owners to feature in the list of highest paid executives in India. Keeping them company in the list were Vineet Nayyar, vice chairman, Tech Mahindra; Akhil Gupta, chairman, Bharti Infratel and A M Naik, chairman, Larsen & Toubro (L&T). While Marans took home close to Rs 71.5 crore each from their listed flagship company Sun TV Network Ltd, Nayyar topped the chart by pocketing close to Rs 180 crore in annual remuneration. A significant part of Nayyar's compensation, however, included part of his employee stock options that he encahsed in the year.
Marans, incidentally, came close to breaking the record for cash compensation for an employee of a listed firm in India. Jindal Steel & Power Ltd's chairman Naveen Jindal had set that record with a Rs 73.41 crore packet in 2011-12.
Promoters of public companies in India have historically paid themselves more than what they paid their top employees but the tide is turning now.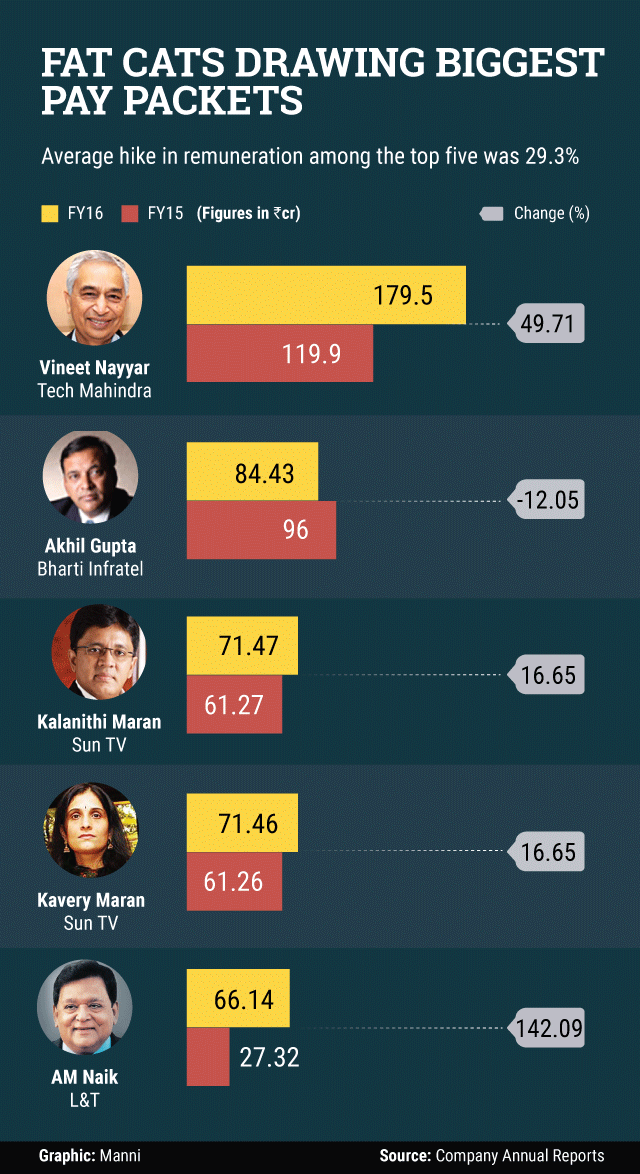 Ronesh Puri, managing director and CEO of head-hunting firm Executive Access, says the trend of top employees emerging as highest earners in corporate India is here to stay and the gap in the pay packets of promoters and senior professionals is going to shrink in the coming years.
"There has been a significant increase in compensation packages of professionals over the last three years. CEOs are under a microscopic scrutiny and there is far more competition and the job is certainly more demanding," said Puri.
Arguing that Indian promoters are increasingly realising that the talent at the top is crucial for the growth of the business, Shiv Agrawal, managing director at recruitment services provider ABC Consultants, said, "Historically, promoters used to run the show, but they are now open to letting professional managers hold the reins even as many of them continue to call the shots. Promoters also realise that the talent at the top management is limited and entrepreneurship is always an option for most of them."
He added that employee stock options were emerging as the preferred tool to retain employees. "Young or IPO bound companies tend to give more stock options to retain talent. While stock options are available to most employees, meaningful stock options are reserved for the top talent in the company," Agrawal said.
But unlike top paid professionals who draw bulk of their compensation by vesting stock options, promoters, like Marans, draw much of their remuneration in the form directors' fee. This component of compensation is derived as a cut from the net profit of the companies.
Separately, among privately-held companies, Vineet Jain, the managing director of India's largest media group Bennett, Coleman & Co Ltd (BCCL), was one of the highest paid individual in 2014-15. Jain was paid a record sum of Rs 90.9 crore in the year by the board of BCCL, which publishes market leading titles such as The Times of India and The Economic Times as well as several TV channels, radio stations and online properties.
Entry and exit
Four out of the five highest paid executives in 2015-16 were also among the best paid the previous year. Exiting the list last year was managing director and CEO of Tech Mahindra CP Gurnani, who, at Rs 165.5 crore, was the highest paid executive in 2014-15.
Gurnani was replaced by L&T's Naik whose pay packet more than doubled in the year and allowed him the entry into the coveted $10 million pay packet club.
As first reported by VCCircle, Tech Mahindra set an employee compensation record for a listed firm by rewarding its vice chairman Nayyar with a total remuneration of Rs 179.5 crore ($29 million) last financial year. Nayyar is a 77-year-old former IAS officer who switched to the corporate job three decades ago.
However, this was a fraction of what Japanese internet and telecom conglomerate SoftBank Corp paid its former president and COO Nikesh Arora. Arora, who quit SoftBank in June, was paid around $137.7 million for the year ended March 31, 2015. It is arguably the highest sum raked in by an India-born professional ever in a single year and one of the highest globally for an employee of a public listed firm in that year.
Also Read: 
Aditya Puri and Chanda Kochhar among highest-paid bankers in India
Snapdeal founders pocketed more than CEOs of Infy, Wipro, TCS combined in FY15
Like this report? Sign up for our daily newsletter to get our top reports.