Private Capital in India healthcare has registered yet another strong year in 2022. Despite a muted macroeconomic environment, the Indian Healthcare sector's US$5.7Bn+ private capital deal flow in 2022 reflects another year of robust deal activity after the record US$6.2Bn flows seen in 2021. With this, the sector's share of private capital stands at 12% of the total funding in the country, the highest ever in the last decade. The Healthcare industry also ranks among top 3 sectors in the country in terms of deal value and volume in the past decade. It is heartening to witness the enhanced private capital investment activity in the sector which is also well supported by value creation for investors in terms of exits. Through the last decade, healthcare investors have garnered USD 5.7Bn from 250 PE exits and 70% of these exits have occurred in the last five years.
In sharp contrast to the significant activity in private capital deal flow, the sector's IPO deal activity has seen a sharp 80% drop in 2022 at US$475Mn. Several companies who had filed their DRHP in 2021 have since postponed their IPO plans like Pharmeasy, Healthium, etc. The market performance of the companies which raised IPO capital in 2021 significantly fell in 2022 with 75% of the companies presently trading well below their IPO price. Examples of issuances trading well below their issue price include Windlas Biotech (-46%), Krsnaa Diagnostics (-48%), Vijaya Diagnostics (-27%), Star Health (-33%), Glenmark Lifesciences (-42%). The listed healthcare segment too registered significant relative underperformance in 2022 with the BSE Healthcare index down 12.1% vs BSE Sensex being up 4.4% (Jan - Dec 2022). Of course, an interesting fallout of this divergence of activity between the private and and listed/IPO markets has been a far more rational expectation on valuation metrics as well as several pre-IPO deal opportunities. As a long-term private equity healthcare investor, our view on the sector's core fundamentals continue to remain positive given the established track record of value creation, attractive growth outlook and its recession proof nature. Looking ahead we highlight four trends at play in terms of private healthcare deal outlook:
Over the course of this decade, we expect to see the sector continuing to attract US$ 3-4Bn private capital YoY thereby resulting in a likely ~US$ 25-30Bn additional capital between 2023-2030. From a fundamental standpoint a lot of this capital can go towards addressing the challenges of care needs across the 2Ds viz. Demographics and Disease.

The average ticket size of transactions has doubled in the last five years to over US$ 46Mn and continues to trend higher Y-o-Y. A large part of the higher ticket size has come from a significant uptick in deal volumes in the US$20-50Mn deal size which is becoming the new norm for most investors in the sector. A few large transactions in 2022 included Suven Pharma (US$750Mn+), Optimus Drugs (US$ 250Mn+), Meril Lifesciences (US$ 200Mn+), etc.

Three core segments - pharmaceuticals, healthcare delivery and digital are today attracting ~ 90% of private capital investment. The digital segment is now sizeable at 30% of the total pool; in 2022 a few notable deals in this segment were Zifo Tech (US$250Mn), Healthkart (US$135Mn), etc. We expect this trend to continue as we see Increasing adoption of virtual tools across the continuum of care.

Growth capital transactions will likely continue to drive the majority of the deal value versus early and buyout stage deals. In 2021 and 2022, growth capital transactions were 77% and 69% respectively of the overall private capital investment in the sector. Interestingly, the buyout segment now forms nearly a third of the total deal value and we see this space growing bigger over the years.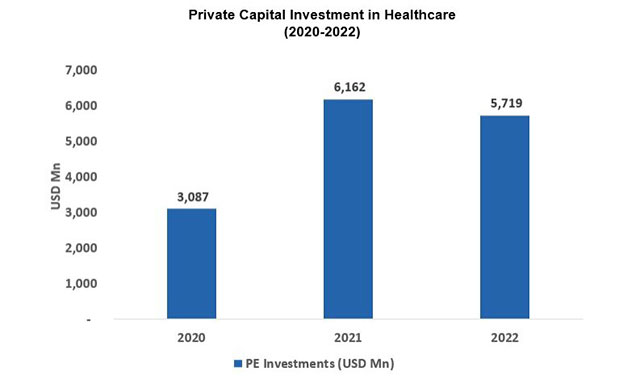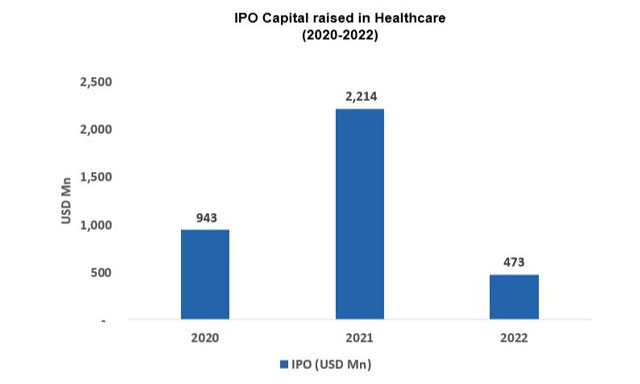 This article has been written by Visalakshi Chandramouli at Tata Capital Healthcare Fund (TCHF). TCHF is a growth capital private equity fund focused on the healthcare and life sciences sector in India (www.tatacapitalhealthcarefund.com).
Brand Solutions is a marketing initiative for sponsored posts. No VCCircle journalist was involved in the creation of this content.