Private sector output rose to a five-month high in August despite a slowdown in manufacturing as service sector growth accelerated.
Private sector output as measured by Nikkei India Composite PMI Output Index rose to 52.6 in August from 52 in July as Nikkei India Services Business Activity Index increased to 51.8 in August, helped by a rise in incoming new work.
Nikkei services PMI, previously known as HSBC services PMI and compiled monthly by financial information services firm Markit, measures economic health of a sector based on surveys of private sector companies. A reading of above 50 on the index denotes expansion.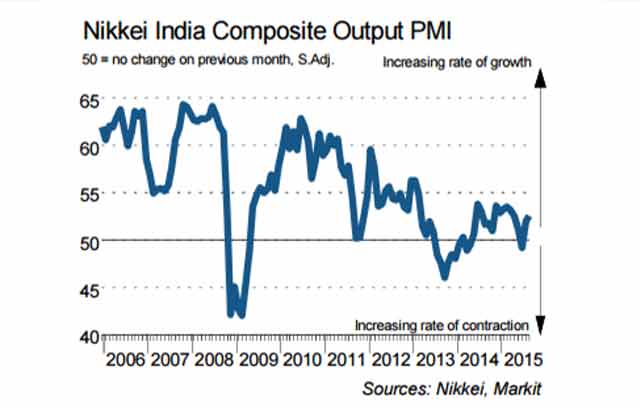 While growth in activity was recorded in three of the six monitored categories, the report highlighted that higher demand coupled with capacity improvements and increased marketing contributed to the latest expansion in new business.
There was a disappointment on the employment front, as both services and manufacturing businesses left payroll numbers unchanged from last month. Despite an uptick in activity, there has not been much impact on employment numbers.
The latest figures for GDP released this week indicated that economy is not recovering as expected, with chief economic advisor Arvind Subramanian indicating deflation is a far greater worry than inflation. The RBI may have to cut rates in its meeting on September 29.
"With growth remaining relatively weak and survey evidence pointing to a lack of inflationary pressures across the country, further rate cuts are on the cards," said Pollyanna De Lima, economist at Markit.