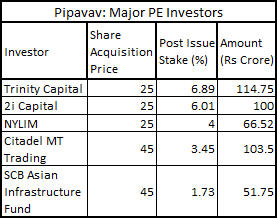 The private equity investors of Pipavav Shipyard are not selling any of their holdings in the forthcoming initial public offering of the company, according to the red herring prospectus. The private ship builder has raised funds from more than a dozen investors including banks, financial institutions and private equity funds.
Pipavav, a firm promoted by Punj Lloyd and SKIL Infrastructure, has set its price band at Rs 55-60 and plans to hit the market between September 16-18.  The public offering aims to raise Rs 510 crore at the upper end of the price band.
Pipavav is located on the south western coast of Gujarat and claims that it will be the biggest shipyard upon completion in India. The shipyard is spread over an area of 198.92 hectares, which also comprises of a special economic zone (SEZ).
The IPO will offer liquidity for investors of the company, which could not hit capital markets first time around when it had filed for listing in January 2008 as the markets had crashed then. Major private equity investors in Pipavav are Trinity Capital, 2i Capital, SCB Asian Infrastructure Fund, New York Life Investment Management India Fund II (NYLIM), Citadel, among others. While Trinity, NYLIM and 2i Capital have picked up the shares at Rs 25 each, the other two investors paid Rs 45 per share.
Others like Blackstone, Merrill Lynch, Galleon, Manz Retail (a Future Group entity), Deutsche Bank also hold small - below 1% - stakes in the firm. These investors have picked up the stake for Rs 80 per share.
Other shareholders in the firm include financial institutions like Infrastructure Leasing & Finance Services (IL&FS), Export Import Bank of India (EXIM Bank), UTI Mutual Fund and Industrial & Development Bank of India (IDBI).
Citigroup Global Markets India, Enam Financial Consultants and JM Financial Consultants are the book running lead managers for the issue.
Pipavav is being valued at 1.1X EV/Order book  even at the lower end of the price band. This is as compared to 0.2X for Indian shipyards and 0.3-0.5X for global shipyards, said investment bank Noble Group in its research note. Given the uncertain order book, the valuation seem to be a little aggressive.
Pipavav has said that it has an order book of $920 million, which includes 12 offshore supply vessels from ONGC and an order for 22 dry bulk carriers from three European shipping companies. The order with the European customers is being renegotiated given the downturn,
though the impact on order book is not known.