The Cabinet Committee on Parliamentary Affairs has decided to convene the month-long winter session of parliament from November 26, parliamentary affairs minister M. Venkaiah Naidu said on Monday.
The announcement came a day after the Bihar assembly election results where the BJP received a drubbing at the hands of the alliance among the RJD, JD(U) and Congress. The party grabbed only 53 seats, lower than its previous tally of 91, in a house of 243 representatives.
Political observers say the session could be a washout in the wake of protests and returning of awards by filmmakers and writers against what they call growing intolerance in the country. They also say that the Bihar results could make it tougher for the BJP to pass important bills, particularly in the Rajya Sabha where it is in minority.
Naidu, however, said the Bihar verdict "should not be interpreted as a mandate to obstruct parliament".
"To realise rapid economic growth, we need to put in the right environment in place. This requires carefully considered reforms," Naidu said. He urged the opposition to allow passage for bills pertaining to the Goods and Services Tax and setting up of real estate regulators.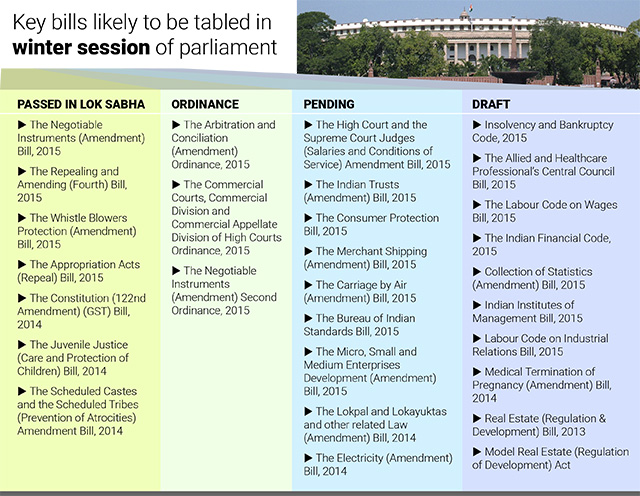 While the government has worked hard and in tandem with the Reserve Bank of India and capital markets regulator SEBI to introduce market reforms, its performance in clearing some important legislation is being questioned by investors.
With the opposition getting stronger and gunning for the government, it will be an uphill task for the government to ensure passage to the GST legislation for implementation of the new tax regime. Passing labour reform bills is also going to be a problem. The opposition had earlier succeeded in raking up the issue of land bill being anti-farmer and might do the same for labour bills as well.