NYSE-listed American Tower Corporation (ATC) said on Wednesday it has inked a deal to buy a 51 per cent stake in telecom tower firm Viom Networks Ltd for Rs 7,635 crore ($1.2 billion) in cash.
The firm is co-promoted by Tata Group's privately held communications arm Tata Teleservices Ltd and the Kanoria family of SREI Infrastructure Finance Ltd. It counts several private investors, many of whom had backed the Kanorias in their tower firm Quippo Telecom Infrastructure.
Viom was created as part of a merger between Quippo and Tata Teleservices' tower unit in 2009.
It owns and operates about 42,200 wireless communications towers and 200 indoor distributed antenna systems across India. The deal pegs the firm's enterprise value at Rs 20,770 crore, or 11 times its annualised EBITDA and Rs 49 lakh per tower.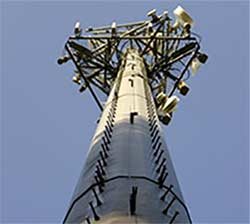 Viom, when it was created, was valued at Rs 61 lakh per tower, which itself was much lower than previous deals in the sector. The telecom tower business has seen valuations shrink over time.
Rival Bharti Infratel Ltd commands a higher value due to its 42 per cent stake in Indus Towers. The Bharti Airtel Ltd unit is valued around 15 times annualised EBITDA based on its first-quarter results, as per VCCircle estimates. Viom's valuation is relatively lower partly due to its client base as it caters to newer telecom players while Bharti Infratel and Indus Towers cater to large legacy carriers.
The latest deal would help ATC compete better with Indus Towers, the world's largest telecom tower firm, with 1.17 lakh towers. Indus was created by the merger of certain tower assets of Bharti Airtel, Vodafone and Idea Cellular. When it completes the takeover, ATC may trump Indus as the largest tower firm by number of communication sites.
The deal involves a secondary transaction where ATC will buy the stake from existing shareholders. It did not give details of the sellers but SREI Infrastructure Finance said in a separate disclosure that SREI Group, the current managing shareholder, besides several others including lead PE investor IDFC Alternatives and JV partner Tata Teleservices will sell shares. It added that SREI Group will sell its entire holding for Rs 2,952 crore ($452 million).
ATC also plans to merge its existing operations in India, where it has about 14,000 towers, with Viom. This shall push up ATC's holding in the company. Indeed, ATC said it may acquire or may be required to buy the remaining stake in Viom to make it a wholly owned business.
Tata Teleservices and a few other PE investors such as IDFC Alternatives, which invested through IDFC Private Equity Fund III, and Macquarie SBI Infrastructure Fund will retain some stake.
Other shareholders of Viom include Singapore's sovereign fund GIC, Oman Investment Corporation, AMP Capital and DB Zwirn.
"With a population of nearly 1.3 billion people, rapidly growing smartphone penetration and limited fixed line infrastructure, India's vibrant wireless industry is poised for a sustained period of network investment," said James D. Taiclet, Jr., ATC's chairman, president and CEO.
"ATC India's greatly expanded portfolio of towers will enable us to play a key role in providing the communications real estate essential to the deployment of advanced wireless technologies throughout the country and to support the Indian government's Digital India Initiative," he added.
Sunil Kanoria, chairman and managing director of Viom and vice chairman of SREI Infrastructure Finance, said that Viom has a robust cash flow stream, the highest tenancy ratio in the industry and a well-diversified tenant mix. "From SREI's perspective, the divestment of Viom will have a multi-fold impact for SREI improving profitability and will be accretive for both shareholders and SREI," he said.
During the quarter ended June 30, 2015, Viom generated annualised revenue of about Rs 5,000 crore in rental and management revenue, around Rs 2,100 crore in gross profit and Rs 1,854 crore in annualised EBITDA. As of September 30, 2015, Viom had Rs 5,812 crore of rupee-denominated outstanding debt.
ATC said it expects the transaction to close in mid-2016.
Evercore and Kotak Investment Banking were the financial advisors while Clifford Chance, AZB and Luthra & Luthra were legal advisors to ATC for the deal. Credit Suisse was exclusive financial advisor and Cyril Amarchand Mangaldas served as legal advisor to Viom and its primary shareholders.