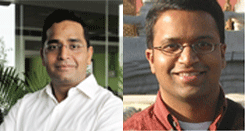 Noida-based One97 Communications Ltd, which plans to hit the market street with a Rs 120-crore IPO, has teamed up with private equity firm SAIF Partners to co-invest in mobile value added services companies. The two players plan an allocation of around $100 million that will invest in companies in the mobile services space India.
( In pic - One97 MD Vijay Shekhar Sharma and SAIF Partners India head Ravi Adusumalli)
The fund will invest anywhere in the region of Rs 2 crore to Rs 20 crore (around $0.5 million to $2 million) in early stage Indian companies occupying the mobile VAS space. The Noida-based firm plans to co-invest with Asia-focused private equity firm SAIF Partners, which holds around a 40% stake in One97.
The fund will be called One97 Mobility Fund and will be focused only on value added mobile service players in India, said Vijay Shekhar Sharma (in pic), founder and managing director of One97, in an interview to VCCircle. One97 plans to invest with SAIF and other institutional investors, which will help it increase the ticket size of its investments.
The tie-up is unique, where a strategic player and financial investors are joining hands to invest in start-ups. While SAIF will invest from its existing fund, One97 will invest from cash on its balance sheet.
SAIF Partners, which has $4 billion in assets under management, has invested in companies like HomeShop18, Just Dial, MakeMyTrip and National Stock Exchange (NSE). It recently exited its investment in IT services firm Intelligroup, which was acquired by NTT Data, earning 5x on its investment.
"When we as a company look at ourselves, we see a portfolio of offerings. Most of them are incubated and built inside. We continue to see a lot of opportunities and markets which we are not addressing, nor is it logical for us to do inhouse in the same organization structure," said Sharma, explaining the rationale for his fund.
"So we go out and invest in such innovative companies and in players committed to such markets," he added. With this fund, Sharma believes that startups don't need to hunt for angel investors who do not necessarily understand the market. "We will offer expertise in go-to-market and startups can ride on our relationship with telecom operators," he said.
The funds team includes Sharma, SAIF Partners India head Ravi Adusumalli (in pic), One97 GM Ishan Gupta and SAIF's vice president Deepak Gaur.
One97 has already incubated and invested in as many as four startups. The latest of its investments came in Singapore-based tenCube, a mobile security services company, in which One97 picked up 21% for a sum of $1 million. The company's product - WaveSecure - offers users complete protection for their mobile device, data and privacy.
It has also backed Oorja, a customer analytics firm; Paytm, a mobile commerce platform and Oc2ps, a social networking application. One97 will use its existing team to make these investments as it believes it already has the management bandwidth to do the same.
As a part of this arrangement, Oorja (where One97 holds 55% stake) and tenCube have brought under the umbrella of this new fund. Vibhor Mehra, a principal with SAIF Partners, also sits on the board of directors of Oorja. Oorja's revenues increased from Rs 40 lakh in FY09 to Rs 1 crore in first nine months of FY10 and the company is profitable.
"Our investments will be in early stage where revenues are ready to be made, hopefully we can look at pre-revenue companies," said Sharma.
Sharma believes with the 3G and BWA auction now behind them, telecom operators would now turn their attention to mobile value added services as they look at new avenues for margins and revenues. "All wireless spectrum has been set and now is the time that the extra value added services and startups offering these come to the forefront," he said.
Ravi Adusumalli, General Partner, SAIF said, "We are extremely excited to be part of the collaboration with One97. We sincerely believe that One97 and SAIF can add tremendous value to the mobile space and support game changing companies."
In setting up a fund such as this, One97 has acutally mirrored a trend followed by telcome operators in India and globally. Telcom major Bharti Airtel Innovation Fund was set up with a corpus of Rs 200 crore to invest in mobile value added services, internet, software and other related areas.
Another similar case was when mobile classified service called Ver Se Innovation Private Limited, which was incubated by India's largest mobile VAS player Onmobile, raised funding from Matrix Partners last year.