Online cab booking service Olacabs.com seems to be the leader among the new crop of online taxi booking ventures. Surely, packed with new funding worth $210 million, it is the most funded local venture and has been marching a step ahead of late entrant but equally endowed Uber.
We pieced together some stats on the inventory and transactions it is doing now to get a snapshot of how it has grown in the last one year or so (the firm declined to confirm or deny the numbers).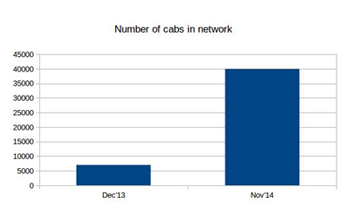 First things first: The firm is now handling around 1.5 lakh booking requests per day which translates into around 40 lakh for a full month (factoring in a few low days). With the average ticket size (gross transaction value of ride) being Rs 320-400, it is doing Rs 130-160 crore in gross transaction value a month, which means on an annualised basis it is on a run rate of $250-300 million.
Of course the firm does not get to keep all the money and its share is roughly a fifth of the pie; so it is on a net revenue run rate of around $50-60 million.
Of the total, around four-fifths of the bookings come from mobile.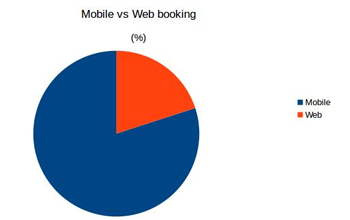 The firm has also been on a furious push to add more cabs to its network. In fact, if the growth of the network is considered it has been adding around 100 cabs a day on average.
Of course, now it is learnt to be adding around 350 cabs a day on average.
It has also expanded its footprint from four cities last December to 22 as of now. In comparison, Ola's key competitor Uber has operations in 10 cities, while TaxiForSure is available in 14 cities.
According to a separate report by its lead investor SoftBank, Ola has more than 33,000 registered users on its platform and it has seen 9x growth in monthly bookings in January-October 2014. It claims that Ola commands 60 per cent market share in India, followed by Meru (16 per cent), TaxiForSure (14 per cent) and Uber (5 per cent).
Ola, run by Mumbai-based ANI Technologies Pvt Ltd , is now planning to add on-demand auto rickshaw booking facility to its platform, and is running a pilot with around 300 three-wheelers in Bangalore. While the Ola spokesperson confirmed the news, he declined to share details.
(Edited by Joby Puthuparampil Johnson)