Faced with the twin problem of falling revenue and increasing expenditure, the Indian Railways will look to monetise its assets and fund projects through external financing. India's railway minister Suresh Prabhakar Prabhu on Thursday, while delivering the rail budget speech, said that the national carrier will adopt a new strategy to bridge the gap.
The new strategy will have three pillars—new revenues, new norms and new structures. In an interview to DD News after presenting the budget, Prabhu said, "We have not compromised on the investment part despite being under burden of the 7th Pay Commission recommendations. We have worked to augment the capacity of railways."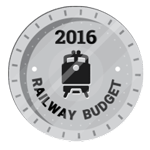 The railways registered a savings of Rs8,720 crore on ordinary working expenses from the budget estimate for the last financial year, thereby partly bridging the revenue shortfall. A revenue generation of Rs1.85 trillion through traffic combined with lower energy cost through direct purchase agreements helped the railways offset the increased salary burden of at least Rs28,000 crore as proposed in the 7th Pay Commission. It will also help restrict the growth of ordinary working expenses by 11.6%.
The railway minister announced that the capital outlay for the financial year 2016-17 will be Rs1.21 trillion compared with around Rs1 trillion in the last budget. "Usually we keep adding to the numbers of last year's budget. But this time we went to the grass root level and inspected all expenditure heads," Prabhu said in the interview.
Also, the operating ratio, which is effectively the money spent by the national carrier to earn every Rs100, for 2016-17 will be 92%—a 2 percentage point increase from last year.
According to Mukesh Butani, managing partner, BMR Legal, it is a fairly reasonable target in a year when no fare hike has been made and there has been indispensable increase in variable costs.
Staying away from any major announcement, Prabhu spelt out his consolidation approach with the railways targeting a 10.1% growth in traffic revenue to Rs1.85 trillion compared with around Rs1.84 trillion in the last budget.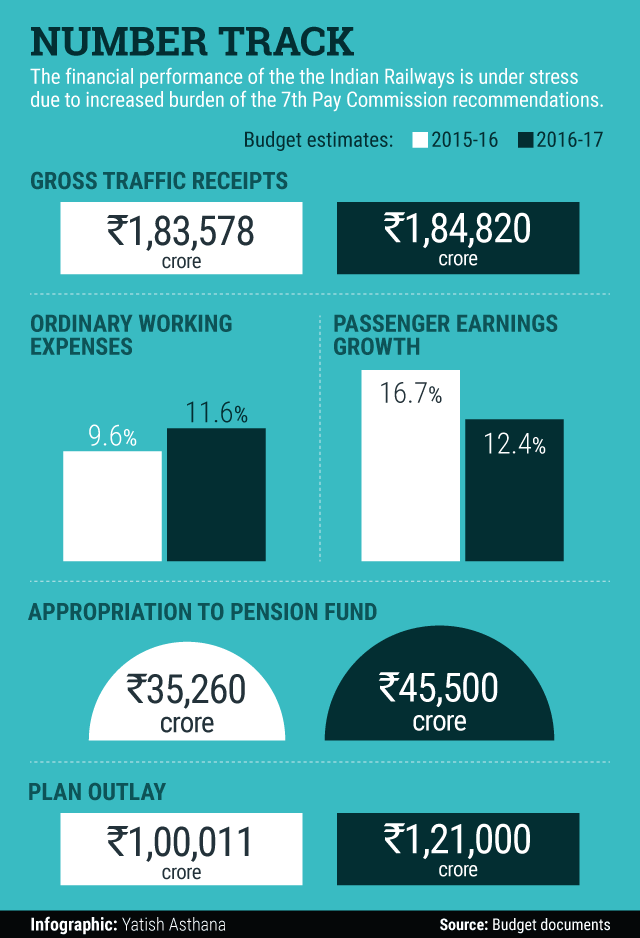 Prabhu's railway budget 2016 speech focused on consolidating the works already started and bringing in structural interventions to carry them forward. Prabhu added that work has been initiated for all the 139 promises made in the railway budget of 2015-16. For the first time, the railway budget has included an assessment report to gauge actions that have been taken on promises made in last year's railway budget.
The minister stayed away from hiking passenger or freight fares. Passenger fare is a sensitive issue and not many railway ministers try to change it despite need for higher revenue from fares. It was the freight fare, main revenue source of the railways, which was frequently tinkered with.
According to Butani, given tepid growth in revenue from passenger and freight fares, there was a compelling case for another increase in fares, but the railway minister didn't give in to hiking fares as an easy solution. "Instead, he has proposed enhanced revenue mobilization through more innovative means," he added.
The railways plans to increase its non-tariff revenue from passengers through revenue-yielding activities on stations from the current 5% to 10-20%, as realized by many railway systems across the world. It has already embarked on the path of redeveloping 400 stations which will create more revenue streams from the land and air space.  
Prabhu also said that 17 states have already expressed interest to form joint venture (JV) with the carrier to execute projects and six states have already signed memorandum of understanding. In the JVs, states will have 51% stake while the railways will have 49% stake. This will substantially lessen the financing burden on the railways.
Also, a lot of projects will be undertaken through the public-private-partnership (PPP) route and will help reduce financing burden. These include station redevelopment, rail side logistics parks and warehousing, rail connectivity for the ports, and setting up satellite terminals.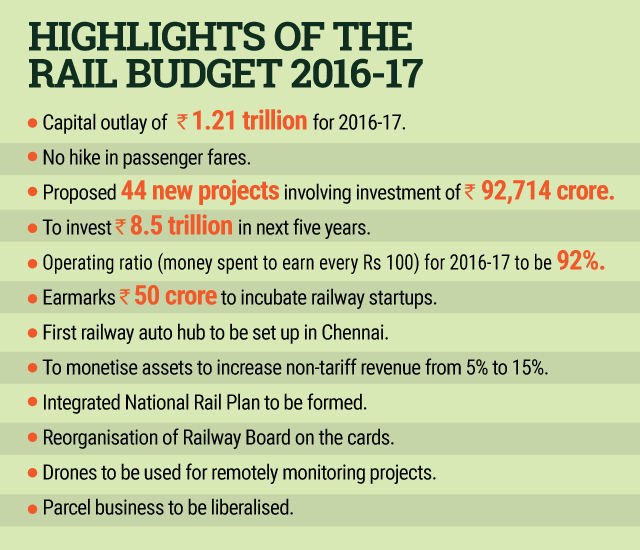 "We are faced with two headwinds, entirely beyond our control—tepid growth of our economy's core sectors due to international slowdown and the looming impact of the 7th Pay Commission and increased productivity bonus payouts," the minister said in his speech in Parliament.
In the last Union budget, the government had targeted India's fiscal deficit at 3.9% for 2015-16 and 3.5% for 2016-17. It is also expecting a gross domestic product growth of 7-7.5 per cent for 2015-16 at a time when Index of Industrial Production and manufacturing growth data have put a question mark on the real rate of growth.
Prabhu, delivering his second railway budget, announced a slew of targets for better passenger experience. He said that in pursuance of the mission of Swachh Rail Swachh Bharat, railways will provide 17,000 bio toilets in trains and additional toilets at 475 stations in the current financial year.
Prime Minister Narendra Modi termed the railway budget to be in line with the vision of the government. He said the budget shows discipline in expenditure and commitment towards consumers.
Prabhu also promised to achieve a punctuality target of 95% by 2020 for the railways and eliminate all unmanned crossing by then. The average speed of freight trains will also be increased to 50km per hour and that of passenger trains to 80km per hour. To that extent, time-tabled freight trains will also be introduced on a pilot basis.
The minister also announced that the suburban train ring of cities such as Mumbai, New Delhi, Bangalore, among others, will be revamped to take care of the ever-increasing load of office goers.
The railways also aims to commission broad gauge lines at the rate of over 7km per day compared with an average of about 4.3km per day in the last six years. The speed will exponentially increase to about 13km per day by 2017-18 and 19km per day by 2018-19.
However, markets did not react positively to the rail budget with Sensex shedding 113 points to close at 22,976 and Nifty down 48 points to close at 6,971.
Though in the interview to DD News, Prabhu claimed that markets will benefit from the huge capital expenditure, most rail-related stocks closed in the negative with the likes of Texmaco Rail Engineering Ltd and Titagarh Wagons Ltd losing at least 8 per cent.