Bala Deshpande, Senior Managing Director, New Enterprise Associates
Venture capital firm NEA India's senior managing director Bala Deshpande is setting up an independent investment firm along with three colleagues, Mint reported, quoting persons aware of the development.
The firm, which is christened as MegaDelta Capital Advisors LLP, is seeking to raise capital worth $250-300 million for its first India-focussed fund.
The directors of the entity include Bala and her colleagues Ruchir Lahoty and Tarun Sharma. Nikhil Marwaha is principal of the fund.
NEA and MegaDelta Capital are expected to work closely going ahead, the report said.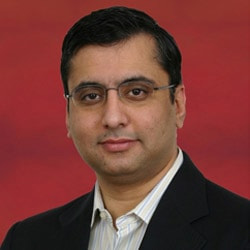 In another development, India-focussed private equity firm Peepul Capital's co-founder Sandeep Reddy's bid to acquire a majority stake in portfolio company Medall Healthcare has got support from private equity giant KKR & Co, Mint reported, citing two persons aware of the development.
KKR will lend about Rs 350-400 crore to Sandeep Reddy while the enterprise value of Medall Healthcare is around Rs 1,000-3,000 crore, according to the report.
Peepul Capital has invested $41 million in Medall Healthcare since 2009, according to VCCEdge, the data research platform of News Corp VCCircle. As of March 2016, Peepul Capital Fund II LLC held 70% stake in the company.
Meanwhile, Global financial services firm JP Morgan is likely to buy the $185 million (Rs 1,187 crore) stressed debt of Seven Hills Healthcare Pvt. Ltd in a bid to gain control of the investee company, The Times of India reported.
JP Morgan is in discussions to buy the debt from lenders led by Axis Bank, the report said.
As of 31 March 2016, JP Morgan Asian Infrastructure and Related Resources Opportunity (AIRRO) Fund owned 49.9% stake in the company, according to documents filed with the Registrar of Companies.
According to VCCEdge estimates, the firm's debt stood at Rs 362 crore in the financial year ended 31 March 2016. It had made a loss of Rs 147.2 crore on revenues of Rs 224.9 crore during FY2015-16
The firm has a hospital each in Visakhapatnam and Mumbai.
Besides, debt-laden Lanco Infratech Ltd is in talks to sell its commercial office space business Lanco Hills Technology Park Pvt. Ltd to Bengaluru-based realtor DivyaSree Developers for Rs1,000 crore, The Times of India reported, citing persons aware of the development.
Lanco Hills Technology is developing a 100 acre IT park at Manikonda in Hyderabad. The project comprises residential, office, IT SEZ, retail and hospitality space.
The 50-acre office zone, a part of the integrated township, is still in the early stages of development with just over half a million sq ft space leased currently, the report said.
In addition, Singapore-based distressed assets fund management firm SSG Capital is looking to acquiring a stake in debt-laden steel company Bhushan Steel Ltd, Mint reported quoting two persons aware of the development.
On 26 July, the National Company Law Tribunal (NCLT) admitted a plea to initiate corporate insolvency against Bhushan Steel.
"While SSG is interested in the asset, given that the case has been admitted by NCLT, it will have to wait for the process to take its course and the insolvency professional to come up with a resolution plan," the report said.