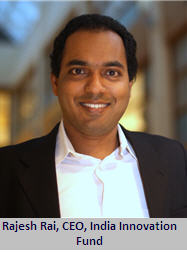 India Innovation Fund (IIF)—led by IT industry body Nasscom and ICICI Knowledge Park Trust--has finally opened its account by investing Rs 2.5 crore in Bangalore-based Mitra Biotech, in which Accel Partners and Kitven (Karnataka government-backed fund) are co-investors.
According to an earlier VCCircle report, both Accel and Kitven also contributed Rs 2.5 crore each in the round raised by Mitra Biotech, a translational biotechnology company focussed on oncology, founded by a team of scientists from MIT and Harvard Medical School. Its co-founder and CEO Dr Mallik Sundaram is an alumnus of Wharton Business School, MIT, University of Utah, while the two other founders include Prof. Charles L. Cooney of MIT and Dr. Shiladitya Sengupta, assistant professor of medicine at Harvard Medical School. Cooney also serves on the board of two leading biotech firms, Biocon and Gnezyme.
In another significant development, the fund has roped in Rajesh Rai, who co-founded New Markets Venture Partners, as CEO. Rai confirmed the debut deal to VCCircle. Rai says, the fund will follow an active co-investment strategy that will allow investee companies adequate runway to play out their business models.
Rai, who boarded the fund six months back, is the second CEO to be appointed. The fund had initially named Ganapathy Subramaniam, formerly with Jumpstart Ventures, as CEO but he quit on personal grounds. Deepanwita Chattopadhyay, CEO of ICICI Knowledge Park, acted as CEO in the interim period.
Rajesh Rai brings over 14 years of venture capital, corporate and entrepreneurial experience to his position. He co-founded New Markets Venture Partners (NMVP), a leading VC fund in the Washington DC region with $50 million under management and 19 portfolio companies. He has worked in NMVP through the lifecycle of fund raising, investing, building and exiting investments. Prior to co-founding NMVP, Rajesh launched new businesses at Godrej-GE Appliances, worked on product planning at Federal Express, optimised product design at Kirloskar Electric and managed an educational services franchise. He is part of the Adjunct Faculty at the University of Maryland's Executive MBA programme. He has an undergraduate degree from NIT Surathkal and an MBA from the Smith School of Business at the University of Maryland.
The innovation fund, which currently has an investment corpus of Rs 50 crore, had targeted a final close of Rs 100 crore, when it was announced three years ago. Sidbi is the latest contributor (Rs 10 crore) to the fund, whose other investors include Tata Consultancy Services, Bharti Airtel Ltd, ICICI Knowledge Park Trust and the department of science and technology.
Excerpts from our conversation with India Innovation Fund CEO Rajesh Rai, where he talks about the investment strategy and India's entrepreneurial ecosystem:
Can you explain the India Innovation Fund's investment strategy?
We are looking to invest in innovation driven, early stage India focused companies. We feel there is a serious lack of capital in this space. Our initial focus in on companies in the healthcare and information technology sectors. As we work with a potential portfolio company, we hope to be able to bring IIF's extensive customer and advisor network to help further the business even prior to making the investment decision. Through such active diligence we will be able to, of course, make an informed investment decision while being able to add value immediately after the investment.
In addition to adding value through getting an experienced advisor from our network to help our companies, one of the key elements of our investment strategy is to be able to catalyse additional investments around our initial investment.
What's the kind of average deal size that you will go after?
We could invest Rs 1 crore ($250k) to Rs 5 crore ($1.25 million) through IIF, either alone or as part of an investment round of Rs 3 crore ($0.75 million)-Rs 15 crore ($3.75 million). We could go alone of course but would like to work with the company to form an investment syndicate. Our aim is to provide our companies enough runway to validate their business model, get to value creation events and ideally of course to cashflow positive, before they look for additional capital. We would like to help our companies spend less time on fund raising and be more focused on building their company.
What are the challenges you face as an investor in innovation driven early stage companies?
I have been tracking the Indian early stage market for a few years. Quality and quantity of early stage deal flow has gone up tremendously. I think the growth has driven a host of factors including global Indians returning to take advantage of the India opportunity, highly driven and educated young Indians who see entrepreneurship as a viable career option and of course experienced corporate executives who are getting off the corporate ladder to be part of the India growth story through entrepreneurship. Most importantly with a fast growing and fairly large domestic market and a greater depth of management talent to build quality products, India now offers a reasonable test bed for innovation driven companies.
The challenge is to find the right teams that are pursuing scalable ideas driven by innovation. And then to be able to provide them enough support - either in completing their teams, providing access to customers and additional capital. Early stage investing is a resource-intensive business. We are looking to build partnerships with local and global investors, corporations and government entities who have an interest in being part of the 'India Innovation' opportunity.
There are of course liquidity/exit challenges. We believe that if we can help provide our portfolio companies an environment to achieve significant milestones in reasonable time periods - exits will come. Either through secondary transactions or the acquisition/IPO route.