South African media conglomerate Naspers Group injected $302.5 million or a quarter of the total $1.21 billion that Flipkart Pvt Ltd, the key holding arm of e-commerce giant Flipkart.com, raised in two rounds this year to retain its 16.63 per cent stake in the firm, Naspers said in a filing.
Of the total, around $52.5 million came in May this year when Flipkart raised $210 million led by DST Global.
The remaining amount of around $250 million came in August, when Flipkart scooped a record $1 billion.
Naspers had originally invested a little over $100 million in Flipkart in August 2012 for a 10 per cent stake in the company. In July last year, it had participated in its fundraising worth $360 million where it brought in around $140 million and raised its holding to 16.63 per cent, valuing the company at $1.6 billion.
The internet and digital media group has put in a total of around $542.5 million in Flipkart, making it the arguably the single biggest backer of the e-com firm in terms of the quantum of investment. Although Tiger Global holds a larger stake and is the single biggest shareholder of Flipkart, it started investing way back when the valuation of the company was much lower.
Founded in 2007 by friends Sachin Bansal and Binny Bansal (not related), Flipkart had in July raised $1 billion in funding co-led by its existing investors Tiger Global and Naspers, with participations from GIC, one of the two sovereign wealth funds of Singapore, besides Accel Partners, DST Global, ICONIQ Capital, Morgan Stanley Investment Management and Sofina. Earlier, it had netted $210 million led by DST Global, Tiger Global, Naspers and Iconiq Capital early this year.
It took its total funding to date to over $1.75 billion.
Flipkart claimed that it had hit an annual revenue run rate of $1 billion in February this year, which means it clocked sales worth over Rs 500 crore that month. Its previous milestone of doing sales worth Rs 100 crore happened in June 2012.
In May, Flipkart acquired Myntra Designs Pvt Ltd, the company which runs the online fashion and apparel shop Myntra.com.
Recently, The Economic Times reported that Flipkart has raised $500-600 million afresh from existing investors including Tiger Global, Naspers and DST Global and a new unnamed investor, at a pre-money valuation of $10 billion. Earlier, there were reports Flipkart was looking to raise $1.5 billion in fresh round of funding from existing and new investors that will value the company at more than $10 billion.
India investments, OLX, Goibibo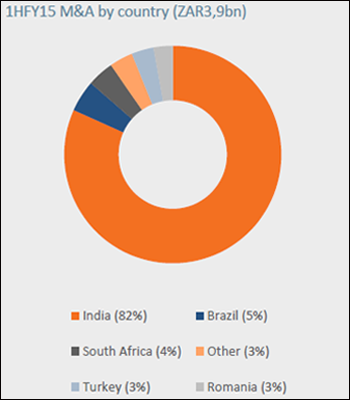 The heavy funding of Flipkart meant as much as 82 per cent of the investment made by Naspers for its M&As or strategic investments during the six months ended September 30, 2014 came into India.
Meanwhile, the firm claimed its cross geography classifieds venture OLX is much bigger that Quikr, which recently raised raised $60 million in fresh funding led by Tiger Global valuing it at around $340 million (Rs 2,050 crore) post-money.
Naspers said OLX has almost 4x in new listings indexed as compared to Quikr and has over 2x in app downloads with OLX seeing 15.6 million downloads in India since its launch compared to Quikr's estimated 5-10 million.
It said OLX's mobile listers have more than tripled over the last one year and were just under a 1 million mark as of August 2014.
However, the growth in mobile listings for OLX in India was much slower around the same period. Brazil, in particular, saw mobile listings jump over 10x while Nigeria grew over 6x. Globally the mobile listing for OLX outgrew India rising almost 4.5x.
Naspers also claimed that its travel business in India, comprising Goibibo and redBus, is already the largest online travel platform in India based on the number of online transactions. It did not share transaction stats but it is widely known that Indian OTA market is dominated by MakeMyTrip followed by Yatra, Cleartrip and Goibibo (in no particular order).