As most of you already know, the results of the Lok Sabha Election 2014 are out. Bharatiya Janata Party (BJP) has witnessed a landslide victory over its opposition Indian National Congress. In the wake of this, BJP's prime ministerial candidate Narendra Modi sent out a victory tweet on micro-blogging site Twitter.
The tweet has broken all previous Indian records and has become the most retweeted (RTd) tweet ever from the country. The official Twitter India account sent out a message confirming the same, which read "This Tweet from @narendramodi is now the most RTd Tweet ever from India."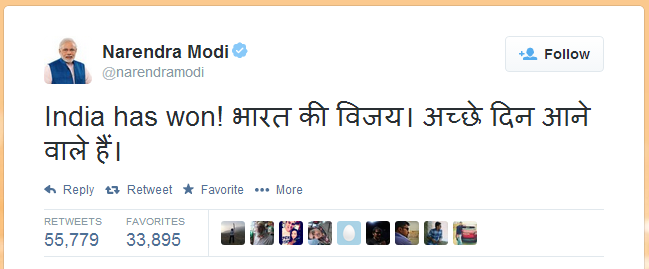 Last we checked, the tweet had been RTd 56,056 times and already had 34,090 favourites. However, don't be surprised if the number increases substantially by the time you get around to check the same.
In addition to this, Modi also posted a selfie of himself that showed him taking the blessings of his mother. Even this one has been RTd 8,821 times and has 9,394 favourites. Earlier, he had tweeted a voting selfie holding the party symbol (lotus) with his inked finger.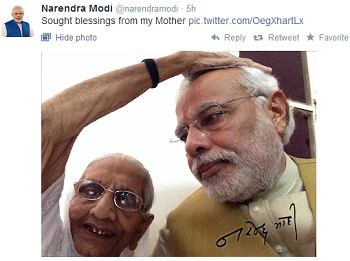 According to the company, this was the country's first Twitter election, since candidates, journalists and citizens alike used the Twitter platform extensively to discover elections content, converse with others in real time, and express their views. Candidates for office also used the platform to break (and unbreak) news, answer questions, post selfies, Vine campaign videos, and connect with their constituents.
The platform saw more than 56 million election-related Tweets from January 1 this year till May 12, when the polls ended. Each of the poll days saw between 5.4 lakh and 8.2 lakh election-related Tweets. To put this in perspective, in the 2009 elections, there was just a single active politician with 6,000 Twitter followers.