Global rating agency Moody's has cut its GDP growth forecast for India this year from 7.5 per cent to 7 per cent attributing it to lower-than-expected rain in the monsoon season, it said on Tuesday.
However, the agency has maintained a forecast of 7.5 per cent growth in 2016.
"We have revised our GDP growth forecast down to around 7 per cent, in light of a drier-than-average monsoon although rainfall was not as low as feared at the start of the season," the agency said.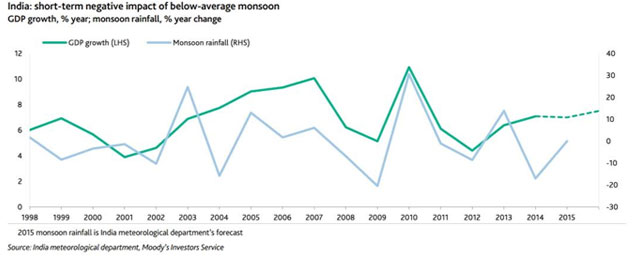 Moody's had revised India's investment rating outlook from stable to positive earlier in April while affirming government of India's Baa3 issuer and senior unsecured ratings.
Moody's has highlighted the risks emanating from lower monsoon and the delay in key reforms to the growth prospects of the country.
"One main risk to our forecast is that the pace of reforms slows significantly as consensus behind the need for reform weakens once the least controversial aspects of the government's plan have been implemented," it said.
While consumer price rise has been contained and the industrial production figures are showing better results than last year, the government has still not been able to propel the economy into a higher growth trajectory.
Investor interest has also been waning as the government has been unsuccessful in clearing key legislations.
Even though the country has revised its official GDP growth statistics with a new calculation methodology pushing India as the fastest growing major economy in the world, the figures have not been in sync with the high frequency data.