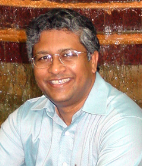 Deal-active IT services firm MindTree Limited has snapped up three-year-old, Sequoia-funded 7Strata IT Services Pvt Ltd, a Chennai-based remote infrastructure management (RIM) services co-founded by former Yahoo India MD and ex-Sify honcho George Zacharias (in pic).
As per the deal, MindTree will acquire the business, including people, customers and intellectual properties, of 7Strata. The 7Strata acquisition will strengthen MindTree's infrastructure management services and help it to foray into the RIM space, it said in a statement. The financial details of the transaction were not disclosed but a Mint report, quoting PTI, says, the all-cash deal is worth about Rs 7.2 crore.
Now, Sequoia Capital is understood to have invested a sum of $3 million in 7Strata when it raised venture funding in August 2008 though the committed outlay was possibly higher, a source said.
It appears that Sequoia's high-profile startup bet on the remote infrastructure management space, helmed by George Zacharias, did not take off as desired. When asked if Sequoia would be writing off this investment, a spokesperson declined to make any comment. Phone calls and text messages sent to 7Strata co-founder George Zacharias did not elicit a response at the time of posting this story.
Spearheaded by George Zacharias, an early poster-boy of new age enterpreneurship, 7Strata harboured an ambitious acquisition-led growth strategy. Sequoia backed the investors in return for a majority stake in the venture.
One source, who did not wish to be named, said the planned acquisitions failed as the anchor investor was not keen on endorsing expensive buyouts. At one point, in 2007-08, Zacharias was seen exploring buyouts as large as $100 million, a second source added. "He even had the backing of PE biggies like Warburg Pincus to chart a growth story in the IMS space where scalable assets command scarcity premium," this source added.  
With acquisition strategy becoming a hostage of valuation games, the premise on which the start-up was built turned untenable. "This is clearly the sale of a troubled asset. And it goes on to prove that IMS is actually a big-boys play now. It needs scalability and that is tough to come by as large outsourcers are increasingly depending on majors," explained an industry observer who has worked with Zacharias in the past. 
While 7Strata failed to crack the scalability game, it nevertheless developed a robust technology platform. Essentially, 7Strata team is moving on to MindTree because of the IP and the management team strength. For MindTree, which has been scouting for IMS assets, it is strategic acquisition of experienced team and technology, which will be leveraged.
As part of the deal, the core management and delivery team of 7Strata will come under MindTree's Infrastructure Management and Technical Support business. 7Strata co-founder and CEO George Zacharias says, in a statement, "We are excited to become part of the MindTree team. The acquisition will help 7Strata access MindTree's global customer base." The acquisition will be effective from May 1, 2010.
MindTree, in which private equity firms Walden International and Nalanda Capital hold minority stakes, recent acquisitions include Aztecsoft Ltd and Kyocera Wireless India Pvt Ltd.
Parthasarathy NS, president and CEO, Mindtree, said, in the statement, "The acquisition also gives MindTree access to remote desktop management services." MindTree offers IT services, independent testing, knowledge services and product engineering comprising R&D and software product. 
In December quarter, Mindtree's net profit rose 1722.02% to Rs 50.47 crore compared with Rs 2.77 crore a year ago. Sales rose 11.99% to Rs 309.55 crore from Rs 276.42 crore. Recently, MindTree informed the stock exchange that it was planning to raise funds through the issue of shares, global depository receipts, American depository receipts and foreign currency convertible bonds to fund its expansion. The shares of MindTree were traded at Rs 645, up by Rs 3.15 or 0.49% at 11:45 am in the Bombay Stock Exchange.