The aggregate gross loan portfolio (GLP) of microfinance institutions (MFIs) grew 61 per cent to Rs 40,138 crore for financial year 2014-15 compared with FY 2013-14, according to data compiled by industry body Microfinance Institutions Network (MFIN) in its 13th issue of Micrometer.
The MFI sector has been rapidly expanding after the microfinance crisis in Andhra Pradesh in 2010 which led to stricter regulations by RBI—MFIs attracted 84 per cent more funding in FY 2014-15 than the previous fiscal. Majority of debt funding at 78 per cent came from banks as securitisation of MFIs increased by 39 per cent, the report stated.
According to data released by MFIN, MFIs provided micro-credit to over 30.5 million borrowers for FY 2014-15, an increase of 29 per cent with annual disbursement increasing by 55 per cent over the last fiscal. Bandhan, SKS Microfinance and Ujjivan were the top 3 MFIs in terms of amount disbursed with Ujjivan more than doubling its loan disbursements over the last year.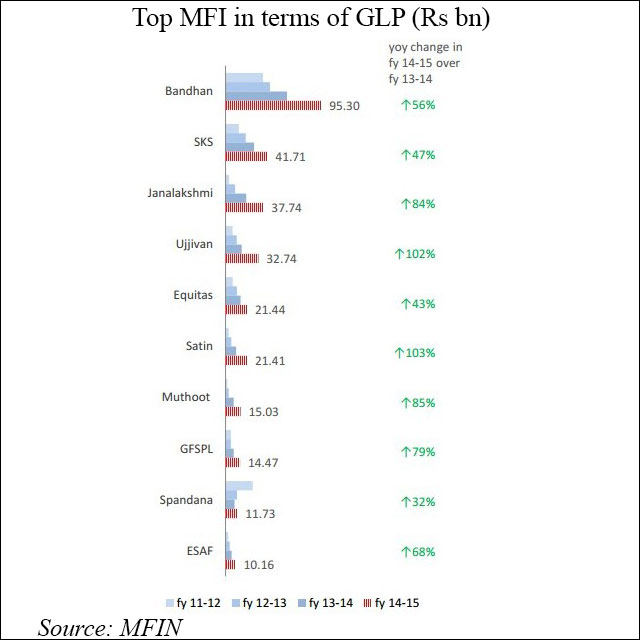 The MFI sector is poised to expand further as government programmes like Jan Dhan Yojana and MUDRA Bank provide further impetus to MFIs. The regulations of RBI for small bank licences and the business correspondent model are also expected to transform the MFI industry.
"The results for 2014-15 are a striking testimony to the resurgence of the industry and the extremely large core demand for micro credit. Over the last 12 months PMJDY's achievements promoting savings and micro finance industry's achievements in promoting micro-credit have quite dramatically transformed the financial landscape in the country," said Alok Prasad, CEO, MFIN.
MFIs have a network of 10,553 branches across 32 states/union territories and geographically, GLP in South stood at 30 per cent while east accounted for 28 per cent. North and West accounted for 22 and 20 per cent, respectively.
The report also stated that the productivity ratios for MFIs improved over the last year. The introduction of technology is expected to help the sector improve productivity. Ujjivan announced adoption of hand-held technology that it developed in collaboration with Artoo last month to increase productivity of its loan officers; others are expected to follow suit.
The report also highlighted an increase in the number of pension accounts to 1.87 million. With the thrust of the government in replicating the success of US social security network, the number of customers is expected to increase exponentially. Prime Minister Narendra Modi had launched three pension schemes at the start of the month to integrate the poorest of the poor in the government's social security network.
MFIN industry data are compiled from 50 non-banking finance companies, which are members of MFIN and constitute around 85 per cent of the microfinance business, excluding SHGs, in the country.