SoftBank-backed e-commerce platform Meesho's reported a 5x surge in its net loss, at Rs 3,247.8 crore for FY22 against a loss of Rs 498.7 crore in the preceding fiscal year.
Its topline jumped nearly four times to Rs 3,232 crore from Rs 838.6 crore in FY21, driven by increased volumes and better adoption of advertising business.
Meesho's total expenses rose 4x to Rs 6,670.2 crore, as compared to Rs 1,337.3 crore year-on-year as Its advertising costs surged more than 5x to Rs 2,579.3 crore from Rs 424.1 crore in the previous fiscal. Its logistics and employee benefit expenses in FY22 stood at Rs 509.2 crore and Rs 2,829.5 crore, respectively.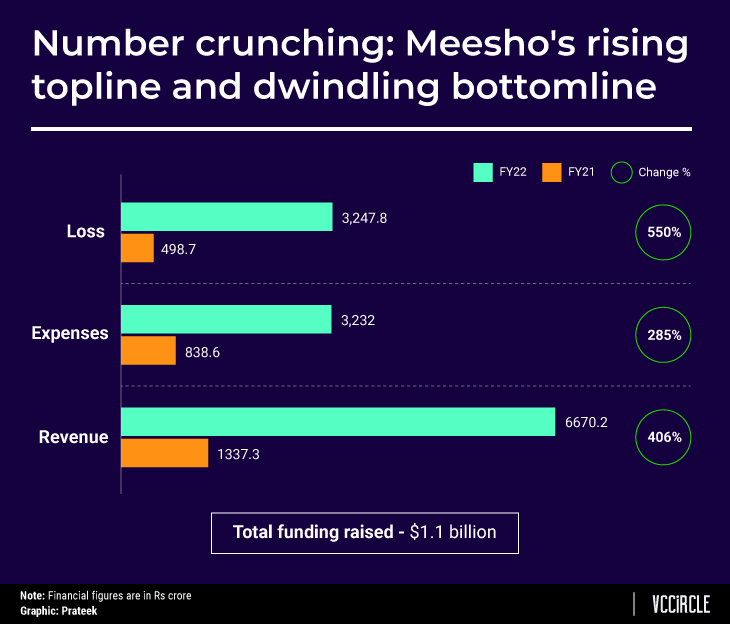 "FY22 was a period of investing in growth to ensure we acquire customers via organic as well as paid marketing channels. Eventually, these efforts helped us become the most downloaded shopping app, not just in India, but globally," said Dhiresh Bansal, chief financial officer, Meesho.
Going into 2022, Bengaluru-based Meesho started chasing efficient growth as the focus shifted towards profitability. The company claims to have reduced its burn rate by 90% to $4 million a month in December 2022 from January last year.
"Starting early this year, we have ensured that the growth is happening on a more sustainable basis. We have brought our losses and cash burn significantly," said Bansal.
Despite its soaring losses in FY22, the company is eyeing to break-even by mid-2023. "We're hopeful that we'll get to profitability pretty soon while continuing to grow at a rate higher than the market standard," said Bansal.
Founded in 2015 by Vidit Aatrey and Sanjeev Barnwal, Meesho began as a social commerce firm and has now transformed into more of a marketplace platform pitting against the likes of Amazon and Walmart-owned Flipkart in India's ecommerce space.
Meesho claims to be clocking about 130 million active users (MAUs), of which roughly about 35 million users transact on the platform. Almost 85% plus of our orders now come from existing users, said Bansal.
In the recently concluded festive season, Meesho claimed to have witnessed stellar growth, clocking more than 100 million in September and October.
In 2021, the company raised more than $870 million in two tranches from Fidelity, SoftBank and B Capital and was valued at $4.9 billion in September 2021. It also counts Meta, Sequoia, Y Combinator, and Elevation Capital as its backers. In total, the company has raised $1.1 billion. It claims to have more than half a billion dollars left with it.