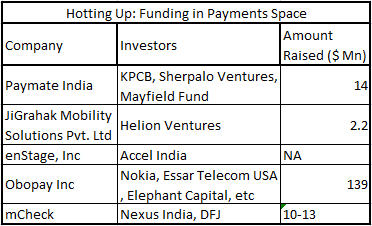 mChek, a Bangalore-based mobile payment application provider, has raised a second round of venture capital funding from Nexus India Capital. Nexus has invested around $5-8 million, a source close to the development told VCCircle. Draper Fisher Juvertson (DFJ), an earlier backer of the firm, has also invested in the second round.
When contacted, a Nexus spokesperson declined to comment on the development. mCheck CEO Sanjay Swamy declined to comment on the investor or the amount raised.
Speaking to VCCircle last week, Swamy said, the company is working aggressively to bring banking to the masses via mobile-enabled services. The primary focus of mChek is to offer convenience to customers while the larger goal is to enable people to graduate to mobile banking.
Mobile payments offer a compelling picture to investors given India's fast growing telecom market, which adds 8-10 million mobile users every month. Mobile users in India recently crossed 400-million mark recently, and the subscriber base is expected to reach 893 million by 2012, according to Cellular Operators Association of India.
In one of the biggest deals in this space, world's largest mobile maker Nokia invested $70 million in Obopay earlier this year. The company, which is targeting the unbanked population in India and China, had earlier raised $69 million from other investors. There are other 4-5 funded players in India who are looking to expand.
Swamy stated that the segment is pretty large and very competitive with several other existing players, but to him the real challenge is to change the mindset of people. "The competition is not among companies. Rather, it is how we can change the mindset of customers and graduate them to electronic transaction instead of cash," he said.
mChek is an early-stage company and is primarily looking for organic growth at this stage. Its applications are used for mobile recharge and bill payments, money transfer and over-the-counter (OTC) payments. mChek products are used across India and Sri Lanka.
In 2006, mChek raised $5 million in the first round of funding led by Draper Fisher Juvertson (DFJ). It was looking at raising $5- $15 million in its second round of funding.
The company has partnerships with ICICI Bank, HDFC Bank, Standard Chartered, Airtel, Visa, Tata Indicom, and online merchants such as FutureBazaar.com, HomeShop18, BigFlix.com, Indiatimes.com, SifyMall.com and Yatra.com.