Credit: Bhakti Nair/VCCircle
For long, the Indian insurance industry had been demanding an increase in foreign direct investments in the sector, considered one of the least penetrated markets in the world. Finally, the 2015 decision of the government to raise the FDI limit to 49%, from the earlier 26%, witnessed a flurry of activities. In the latest transaction, Japanese insurance major Tokio Marine upped its stake in its India joint venture, IFFCO-Tokyo, at a valuation 20 times its initial price, making it one of the most prominent deals in the insurance space.
Deal: Singapore-based Tokio Marine Asia Pte. Ltd's increased its stake in IFFCO-Tokio General Insurance Company Ltd, a joint venture involving Indian Farmers Fertiliser Cooperative Ltd, to 49%.
Target: Gurgaon-based IFFCO-Tokio General Insurance, which was incorporated in 2000, is one of India's leading private general insurance players. The company was formed to take insurance to the doorsteps of Indian farmers by leveraging IFFCO's strong network. IFFCO-TOKIO offers a wide range of uniquely customised policies, covering a range of customers from farmers to some of India's largest automobile manufacturers. Its gross written premium increased from Rs 213 crore in 2001-02 to Rs 5,636 crore in 2016-17.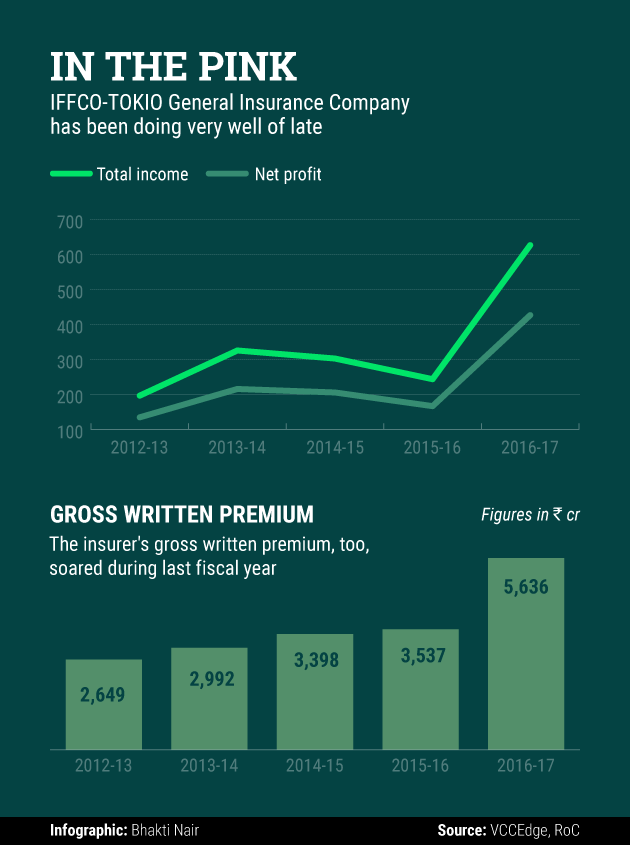 Buyer: Tokio Marine Asia is engaged in providing non-life insurance, life insurance and general insurance, among others. It is an intermediate holding company within the Tokio Marine Group, which is Japan's largest insurance group.
Sellers: IFFCO is a small-scale cooperative federation based in India, engaged in the production and distribution of fertilizers. The New-Delhi based company, which was founded in 1967, manufactured urea, nitrogen, phosphorous and potassium, di-ammonium phosphate, nondeterministic polynomial, bio fertilizers, water soluble fertilizer, zinc sulphate and sulphur.
Chennai-based Indian Potash is an agri-business company. It is engaged in importing, handling, promotion and marketing of potash. The company was founded in 1955.
Valuation: For the transaction, the enterprise value of the general insurance company was at $1,690 million (around Rs 11,000 crore). Earlier Tokio Marine had a 26% stake in the joint venture – the maximum a foreign entity was allowed to hold in an insurance business in India. IFFCO held 72.64% and Indian Potash Ltd had a minor stake of 1.36% in the company.
As part of the deal, Indian Potash sold its entire stake for a consideration of $23 million, while IFFCO hived off a 21.64% stake in the company for $367 million. IFFCO's stake will be reduced to 51% once the transaction is complete.
The valuation of the company has grown 20 times since the joint venture was formed. The three promoters, IFFCO, Indian Potash and Tokio Marine, had initially invested Rs 560 crore. The enterprise value of the company was at 17.4 times its total income in 2016-17, and 25.5 times its profit after tax. The enterprise value is 1.9 times its gross written premium of Rs 5,636 crore earned during the same period.
Big Picture: Currently, there are over 30 players in the general insurance sector in India, including public sector giant General Insurance Corporation. Almost all private players operating in the market have foreign joint venture partners.
Many global insurance players are looking for opportunities to enter the Indian insurance sector, while those who are already present in the country are looking to increase their stake.
In fact, following the Indian government's 2015 move to increase the FDI limit in insurance, many foreign JV partners, including Standard Life, Nippon and Mitsui Sumitomo, have raised their stakes in the respective insurance ventures.
The current deal will help the company utilise Tokio Marine's expertise in the insurance sector across geographies. For Tokio Marine, the deal will strengthen its presence in the Indian market, which is currently grossly under penetrated.
For IFFCO, it will unlock the valuation of its investment and help the company focus on its core business. "This transaction will help IFFCO in raising the required capital to focus on more agri-businesses and to better serve the interests of the farmers in the fast-changing agriculture sector in India," said US Awasthi, managing director and CEO, IFFCO.
Advisors: Khaitan and Co. acted as legal adviser to Tokio Marine Asia on the transaction.