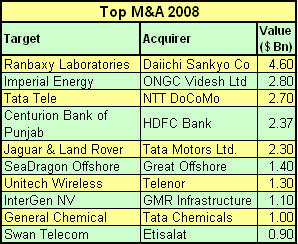 Global economic slowdown notwithstanding, India Inc announced more billion dollar M&A deals in 2008 compared to the previous year when the markets were on a bull run. Although the mega $10 billion plus deals of last year: Tata Corus and Vodafone-Hutch were missing this year, there were other large size transactions which kept the I-bankers busy.
As against seven billion dollar deals in 2007, there were nine such deals announced this year. There were two big difference this year with a rise in the number of big ticket inbound transactions where a multinational firm was picking stake in Indian companies and entry of a domestic deal in the top ten M&A list.
As against just one (Vodafone-Hutch) out of the seven billion dollar deals last year, 2008 saw three inbound transactions. These include Daiichi Sankyo's acquisition of Ranbaxy for $4.6 billion, which was the biggest transaction struck this year. Other large inbound transactions to have been announced include Japanese telecom giant NTT DoCoMo buying a strategic stake in Tata Tele for $2.7 billion and Telenor's proposed $1.3 billion deal with Unitech Wireless.
HDFC Bank's acquisition of Centurion Bank of Punjab also the lone large domestic M&A deal this year. Last year all the top ten M&A transactions were cross border.
In terms of sectors, this year was dominated by telecom which accounted for 3 out of the top ten deals -- NTT DoCoMo- Tata Tele, Telenor-Unitech and Emirates-Swan Telecom. Last year metals & mining was the most active sector with four out of top ten deals. Other sectors which witnessed large M&As in 2008 were pharma, oil & gas, banking, auto, shipping and chemicals.
The top slot in merchant bankers league table for the top transactions is shared by Merrill Lynch, Citigroup, Standard Chartered, Deutsche Bank and E&Y. All have been involved in atleast two transactions each out of the top ten either as lead advisor or in a consortium, given the disclosures.