Wholesale as well as consumer inflation slid further as lower commodity prices pulled down prices, fuelling expectations of rate cut by RBI in its policy meeting later this month, official figures released on Monday showed.
While wholesale prices for August declined for a 10th straight month by 4.95 per cent, the sharpest decline since September 1976 when it fell 5.33 per cent, retail price rise at 3.66 per cent slid marginally from 3.69 per cent inflation in July. This is the lowest level of consumer inflation since 3.27 per cent recorded in November 2014, when it hit the lowest level since the government started compiling new consolidated national statistics for consumer inflation in India from January 2012.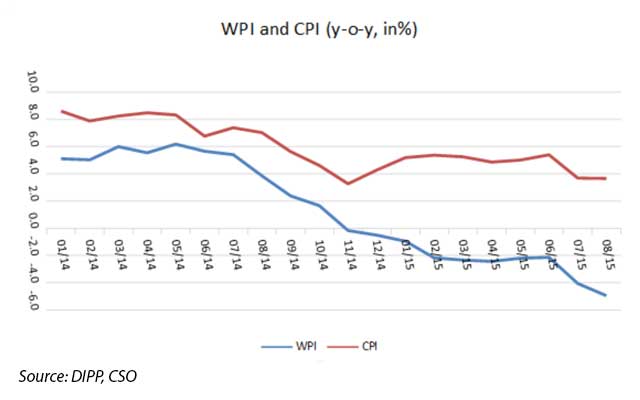 Till a year ago WPI was the key parameter dictating RBI's monetary policy. However, the central bank is now following consumer inflation for deciding policy rates but markets have been calling for a rate cut given that wholesale prices have been in negative territory and GDP deflator, which is also a gauge of inflation fell to 1.66 per cent during April-June and 0.21 per cent in the preceding quarter.
RBI had held back on cutting rates due to below-normal monsoon though latest figures suggest that the impact of below-normal monsoon till now has been minimal on food prices. Consumer food prices for August increased by just 2.2 per cent compared with 2.15 per cent in July. Within wholesale prices food articles was the only one of the three groups to register an increase. Manufacturing products which constitute almost 65 per cent of the weight in WPI declined by 1.92 per cent in August compared with a 1.47 per cent decline in July.
Chief economic adviser Arvind Subramanian in a press conference conducted a fortnight ago had said: "We are closer to deflation territory and far away from inflation".
While the clamour for rate cut is growing RBI governor Raghuram Rajan may well decide to hold on to rate cutting exercise if the US Fed hikes rate in its September 17 meeting.