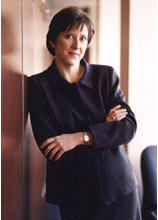 In one of the most talked about hires, Silicon Valley's top venture capital firm Kleiner Perkins Caufield & Byers has roped in Morgan Stanley's star technology analyst Mary Meeker as a partner. Meeker will focus on social media and technology investing at KPCB, which is known for investing in companies like Google, Amazon and Zynga.
KPCB has a $200-million iFund for investing in apps for the Apple iPad and iPhone, and the $250 million sFund for investing in social networking. KPCB is also working on raising its 14th fund, at $650 million.
Meeker will be based in Silicon Valley and will travel often to New York and Asia, a statement said. Meeker has been in Morgan Stanley since 1991 where she has been covering companies like Google Inc., EBay Inc., and Yahoo! Inc. Prior to joining Morgan Stanley, Meeker served as a technology research analyst at Cowen and at Salomon Brothers. 
"We're at the beginning of another great wave of tech innovation and I am incredibly excited by the opportunity to help the next generation of Internet technologies and leaders," Meeker said in the statement.
"Mary was an early supporter of some of the biggest technology investment winners of the past 20 years...Her advice and support are already highly sought after by entrepreneurs and in this new role, she will be able to spend even more time providing more direct assistance," Kleiner Perkins partner John Doerr said in the statement. 
On November 16, 2010, at the annual Web 2.0 Summit in San Francisco, Meeker made a presentation titled - Ten Questions Internet Execs Should Ask & Answer ( for the report -PDF) - which predicted a $50 billion online advertising boom. 
Meeker's presentation said that the top internet markets – 46% of Users - are in five countries, China, USA, Brazil, India, Russia
Meeker said that mobile commerce may gain market share faster than traditional online retailing.