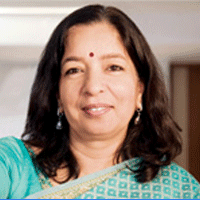 Global alternative asset manager KKR & Co. has appointed former Axis Bank chief executive Shikha Sharma as an adviser to expand its non-bank financial companies (NBFCs) in India.
Sharma will advise the NBFCs on business growth, value-creation opportunities, and mergers and acquisitions, among others, KKR said in a statement.
Sharma was managing director and chief executive of Axis Bank until December 2018. Prior to her time at Axis Bank, she was managing director and chief executive of ICICI Prudential Life Insurance Co. Before that, she helped establish ICICI Bank's retail lending business and ICICI Securities' joint venture with JPMorgan.
Sharma's appointment comes at a time when KKR is looking to expand its credit business in multiple ways. It is launching a $1 billion credit alternative investment fund, VCCircle reported this month.
VCCircle wrote earlier this week that KKR has been aggressively making new hires for its India business, with a specific focus on infrastructure and stressed assets.
KKR has two NBFCs in India--corporate-focused KKR India Financial Services Pvt. Ltd and real estate-focused KKR India Asset Finance Pvt. Ltd. These alternative credit businesses have a combined net worth of about Rs 4,640 crore ($660 million).
"Having built a broader financial services business, Shikha's experience will help us expand our presence in the financing sector and build on our NBFC's large equity base to meet the ongoing need for capital in corporate India," said KKR India chief executive Sanjay Nayar.
KKR has been seeking ways to diversify its NBFC business beyond corporate and real estate lending. The firm also has plans to acquire NBFCs that focus on retail and SME (small and medium enterprise) lending, Nayar had told VCCircle earlier.
"India is structurally short of long-term capital, and this provides a compelling opportunity for our NBFCs to diversify and scale up in many areas, including working with mid-market companies and SMEs," Nayar said.