In one of the biggest consolidation moves in the retail sector, Kishore Biyani-led Future Group has inked a partnership with Sunil Mittal-led Bharti Group to merge their retail businesses. The merger will create two entities—one focused on retail operations and the other holding retail infrastructure and investments—the two companies announced on Monday.
Under the merger agreement, Future Retail will demerge its retail operations into Bharti Retail while the latter will demerge its retail infrastructure into the public listed firm Future Retail. Future Retail will be renamed as Future Enterprises while Bharti Retail will be rechristened as Future Retail and will be listed separately as a retail operations company.
By joining forces, they hope to be better positioned to take on India's top retailer Mukesh Ambani's Reliance Retail as well as other domestic peers and future competitors besides e-commerce firms.
Future Retail lost its position as the top retailer by revenues to Reliance Retail two years ago. Financials of Bharti Retail for FY15 are not yet in public domain and though the proposed merger may not disturb Reliance Retail's pole position, it would create a much stronger number 2 player in the market.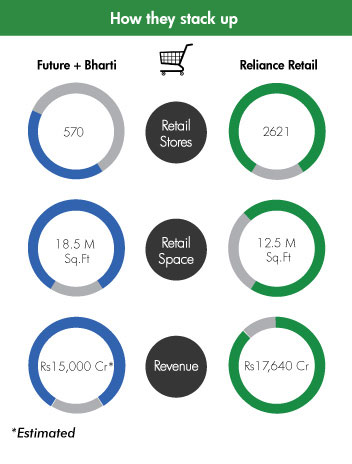 The combined entity will have over 570 retail stores in 243 cities with operational retail space of over 18.5 million square feet. It will operate 203 Big Bazaar and 'easyday' hypermarkets , 197 Food Bazaar and 'easyday' supermarkets, and 171 other stores comprising of Home Town, eZone, FBB and Foodhall.
Reliance Retail closed FY15 with 2,621 stores across 200 cities and revenues of Rs 17,640 crore (up 21.2 per cent). It added 930 stores last year alone.
But Future-Bharti combine would have a wider footprint in terms of number of cities as also bigger aggregate retail space (18.5 million sq ft against Reliance's 12.5 million sq ft).
"Bharti Retail's strengths and network complement perfectly with that of Future Retail. It will bring close to millions of consumers and provide new opportunities for our supply partners. The operational efficiencies that can be derived from the merger will create significant value for our shareholders," Kishore Biyani, founder and group CEO of Future Group, said in the statement.
"The partnership offers compelling synergies in terms of reach, efficiency and experience to build a truly world-class retail network to serve the Indian consumer. Retail is emerging as the next big growth engine for India and we will be well positioned to be a major player in this growth story," Rajan Bharti Mittal, vice chairman of Bharti Enterprises, said. Bharti Enterprises is the holding arm of Bharti Group's businesses.
Bharti Enterprises had previously partnered Walmart in India. Under the dual arrangement, the two were JV partners in Bharti Walmart Ltd which ran wholesale cash and carry retail outlets under the Best Price Modern Wholesale brand. This firm also served and managed the back-end supply chain of Bharti's wholly owned 'easyday' stores.
The JV came unstuck in October 2013. 
Walmart bought out Bharti Enterprises from the JV and now runs the B2B wholesale retail outlets on its own.
With Bharti's core competence in the telecom field, it needed a strategic partner to take forward its financially bleeding retail business. Biyani, on the other hand, had been divesting non-core assets to focus on the key retail business after the group piled up debt.
Foreign investment in multi-brand retail sector was relaxed two years ago with riders but as of now only UK's Tesco has made a serious move in the consumer retail field. It invested in Tata's hypermarket chain Star Bazaar.
Merger details and holding pattern
Bharti Retail will issue one share for every fully paid-up equity share held in Future Retail (as also its DVRs). Simultaneously, Future Retail will issue a share for every fully paid-up equity share held in Bharti Retail.
As per VCCircle estimates, Kishore Biyani and family will get around 47.8 per cent stake in the new Future Retail while Mittal family will own around 9.2 per cent stake. Rest will be held by public and institutional shareholders.
This shareholding pattern factors in warrants held by Biyani in Future Retail. However, it excludes the optionally convertible debentures (OCDs) held by unnamed investors in Bharti Retail.
Bharti Retail did not share further details of whether these OCDs are held by Mittal family or by external investors. It said that these OCDs, which aggregate Rs 250 crore, will be spliced into OCDs of the two resulting companies and converted into shares of the companies in the future.
Assuming that Mittal family are the holders of these OCDs, their stakeholding in Future Retail would push higher in the future.
Moreover, Wipro promoter Azim Premji is also a stakeholder in the firm. Last December, he backed Biyani's private holding firm to participate in a rights issue of the flagship company. The terms of the transaction and how much indirect stake is held by Premji is not clear.
Biyani's gamble
Future Group, once India's top retailer with a growing presence in financial services space, has been consolidating its business after piling up huge debt over the years.
In the retail business it sold its apparel retail business in 2012 by spinning it off as a separate listed firm and then selling a majority stake in the venture to Aditya Birla Nuvo, one of the largest branded fashion apparel players in the country.
The same year it sold majority stake in Future Capital (now Capital First) to Warburg Pincus. A year ago, it sold its remaining 9 per cent stake in the firm.
Future Capital was formed as a JV between Sameer Sain and Future Group and went public in early 2008. The two later split with the business with Sain and associates moving out with private equity business (spun off as Everstone Capital and led by Sain and Atul Kapur) and all non-investing businesses such as insurance, retail financial services and wholesale credit being retained under the listed firm. This was sold to Warburg Pincus.
The group also sold a minority stake in Future Generali Life Insurance. It had also inked a deal to divest majority stake in its general insurance venture Future Generali India Insurance Ltd through a merger with L&T General Insurance besides part stake sale. However, this proposed deal with L&T General Insurance was scrapped.
Meanwhile, the group restructured a couple of years ago dividing the business into three firms. Indeed, the deal between Bharti Retail and Future Retail also creates a competitor for another group firm.
Future Consumer Enterprise Ltd (earlier Future Ventures), the food and FMCG arm of Future Group, houses small format chains KB's Fairprice and Big Apple besides Aadhaar, a rural wholesale distribution unit. Last year it also acquired another convenience stores chain Nilgiri's. Run by The Nilgiri Dairy Farm Pvt Ltd in south India, Nilgiri's was previously owned by PE firm Actis.
The Nilgiri Dairy Farm is directly, and through its subsidiaries, engaged in the business of licensing franchisee rights to third parties for operating convenience stores under the Nilgiri's brand, manufactures food, grocery, chocolates, dairy and other products and is involved in trading in general merchandise and imported products. It also owns a portfolio of brands in these products.
Shares of Future Retail last changes hands at Rs 129.65 each rising 12.06 per cent in a strong Mumbai market on Monday.
(Edited by Joby Puthuparampil Johnson)