JPMorgan Chase's chief investment office, still reeling from a $2bn-plus trading loss, has been taking a much more aggressive approach to investing the bank's own funds than its competitors, according to regulatory filings.
Rival banks are distancing themselves from JPMorgan, which invests less in US-government guaranteed securities than any large US peer. Its corporate unit, which includes the CIO, is also the most risky in the bank according to filings.
Brian Moynihan, Bank of America's chief executive, and Michael Loughlin, Wells Fargo's chief risk officer, told an investor conference this week that their banks did not pursue a macro hedging strategy of the type thought to be responsible for losses at JPMorgan's CIO. Other bankers are questioning JPMorgan's approach to customer deposits.
"It seems that JPMorgan's CIO was essentially investing the excess liquidity of the bank to generate profits", said a senior risk manager at another rival. "It's not something we do and it surprised us."
Large banks often invest some customer deposits that cannot be lent profitably to boost returns. But most "excess liquidity" is placed on deposit at central banks, or invested in government-backed securities to avoid losses.
Barclays and BofA invest 95 per cent of their liquidity pools in this way, for example.
JPMorgan does not say how it invests its global liquidity reserve, which stood at $432bn at the end of the first quarter, but company-wide data suggest a far lower percentage is deployed in such instruments.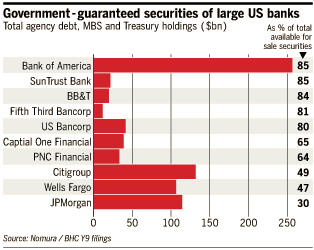 The bank held only $115bn in deposits at banks, while US government-backed securities made up just 30 per cent of its $382bn securities portfolio, by far the lowest percentage among the 20 large US banks including BofA, Citigroup and Wells Fargo that are tracked by Nomura.
JPMorgan's securities portfolio also included almost $90bn of non-guaranteed mortgage-backed securities and $60bn in corporate debt securities.
"If banks diversify into corporate bonds, MBS ... and other securities, then you have to live with the risk that there are occasional defaults within the portfolio," said Brian Foran, US banks analyst at Nomura.
Jamie Dimon, JPMorgan's chief executive, has warned against investing exclusively in US government debt. "If you own Treasuries folks, you could be taking a lot of risk ... Treasuries can go up or down," Mr Dimon told a Deutsche Bank conference this week.
Filings also show JPMorgan's CIO is much larger than similar institutions at other banks.
The bank's corporate unit, which houses the CIO, managed 31 per cent of the bank's $2.3tn in assets at the end of the first quarter. Citigroup's corporate unit, which also manages the bank's excess liquidity, Treasury and risk functions, managed 16 per cent of the bank's assets, and BofA's comparable unit accounted for just 14 per cent of assets.
According to JPMorgan's own assessment, regulators would see its corporate unit as the bank's largest risk centre. Its latest quarterly filing said the unit would require $74.9bn "to address regulatory capital requirements", if "it were operating independently", almost equal to the capital requirements of the investment bank, commercial banking and retail units combined.
More News From Financial Times