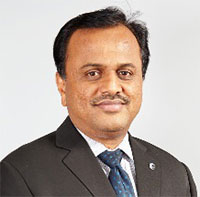 Real estate firm ANAROCK Property Consultants has named Santhosh Kumar as group vice chairman.
Previously, Kumar was chief executive officer of operations at real estate consultancy Jones Lang LaSalle India.
He will be based out of ANAROCK's Gurgaon office, the firm said in a statement.
Kumar was closely involved in the merger of Jones Lang LaSalle and Trammell Crow Meghraj. He has over 20 years of experience in the Indian real estate space.
"Santhosh's domain expertise, experience and impeccable relationships with the leading real estate players are invaluable assets for the firm," said Anuj Puri, chairman of ANAROCK Property Consultants.
"The current residential ecosystem throws up unique opportunities and challenges, and ANAROCK's strong market positioning along with its digital and offline consultancy support is the key to addressing both," said Kumar.
"There are more than 7 lakh unsold housing units across top seven cities of India. With so much supply stacked up and more hitting the market, there is a tremendous need for transparency-oriented real estate consultants to guide homebuyers and investors to the best opportunities," he said.
Kumar began his career in 1998 with Chesterton Meghraj.
He holds a master's degree in commerce from University of Delhi and is an associate of Institute of Cost & Works Accountants of India.
Puri parted ways with Jones Lang LaSalle in January last year after leading the global real estate consultancy's India operations for a decade. Subsequently, Puri bought JLL's residential brokerage and private equity businesses and renamed it as ANAROCK.
ANAROCK Group's key verticals include residential business, investment business, and research and consulting business. It operates in Mumbai, Chennai, Bengaluru, Gurgaon, Noida, Hyderabad, Kolkata, Pune and Dubai.