Pradhan Mantri Jan Dhan Yojana or PMJDY has been a huge success and is close to saturation in integrating the bottom of the pyramid into the financial system, as per figures released by the government on Friday.
The initial demand for new no-frills bank accounts was expected to be around 7.5 crore but the latest figures show 18 crore bank accounts have been opened with 15.74 crore customers adopting the RuPay debit card facility. The new bank accounts have mobilised over Rs 22,000 crore in deposits, the official figures reveal.
Prime Minister Narendra Modi had launched the scheme last year in August to boost financial inclusion. The programme was aimed at opening zero balance accounts for all individuals. The scheme was started with a target to provide 'universal access to banking facilities' starting with 'basic savings bank account' with an overdraft up to Rs 5,000 subject to satisfactory operation in the account for six months.
The prime minister had earlier this year announced insurance and social security schemes christened Pradhan Mantri Suraksha Bima Yojana, Pradhan Mantri Jeevan Jyoti Bima Yojana and Atal Pension Yojana to complement the PMJDY.
While the initial criticism of the PMJDY was that majority of the accounts had zero balance and the scheme brought token improvement in terms of financial inclusion, there has been some progress on the front.
The number of accounts with zero balance have come down considerably from 76.81 per cent in September 2014 to 46.93 per cent in July 2015.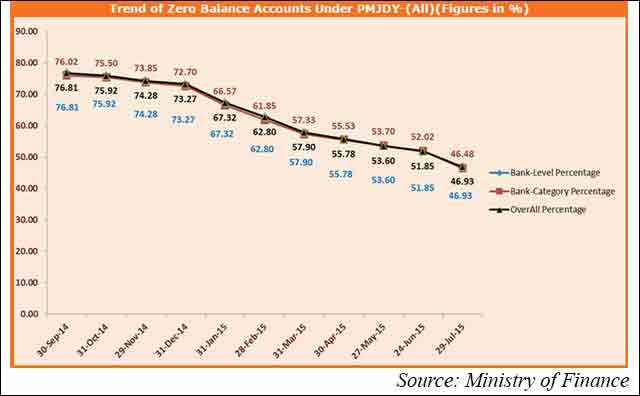 Now the focus of PMJDY has moved from account opening to the provision of cash-out facilities at an approachable distance to reap the real benefits of PMJDY, the government said.
While the government has been able to get accounts activated through direct benefit transfers and overdraft facilities, it will have to do more to make these accounts a part of Indian growth story by encouraging savings and deposits.
While efforts have been taken by introducing concepts of banking correspondents and increasing the limit of cash withdrawal from Rs 1,000 to Rs 2,000, a lot will depend on how the government can build further supporting financial infrastructure.
In the year ended March 31, 2015, 8,227 branches and 21,197 ATMs were added to the network, while 1,26,062 'bank mitras' have been deployed, the government highlighted.