Finance minister Arun Jaitley's third Union budget had a theme—Transform India. And while reading out the budget speech, Jaitley termed infrastructure and investment as the fifth support pillar of the theme championed by the National Democratic Alliance (NDA) government.
Given that infrastructure forms the backbone of the government's flagship programmes such as Make in India, the budget announced a higher public spending to support infrastructure development.
The total outlay for infrastructure announced in the budget for 2016-17 is Rs2.21 trillion compared with Rs1.80 trillion in revised estimates for 2015-16. With NDAs focus on improving the country's transportation architecture, Rs2.18 trillion has been earmarked for roads and railways for the financial year 2016-17.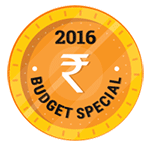 With tepid private investment due to a slowdown in emerging and developed markets coupled with weak domestic earnings by companies, public spending was required to keep the momentum going. However, the dilemma faced by the government was how to balance the spending and stick to the fiscal deficit targets of 3.5% of the gross domestic product (GDP) for 2015-16 and 3.9% for 2016-17. The government decided to stick to the targets while creating space for infrastructure spending.
"We wish to enhance expenditure in the farm and rural sector, the social sector, the infrastructure sector and provide for recapitalisation of the banks. This will address those sectors which need immediate attention," Jaitley announced while laying the roadmap for the third year of Prime Minister Narendra Modi-led government.
The Union budget proposed a capital expenditure of Rs1.21 trillion for the railways. This will support the national carrier which has mostly relied on monetising its assets and funding projects through external financing, as announced by the railway minister Suresh Prabhu on 25 February.

The government also earmarked Rs27,000 crore for Pradhan Mantri Gram Sadak Yojna and Rs55,000 crore for roads and highways. Additionally, Rs15,000 crore is to be raised through bonds issued by National Highways Authority of India (NHAI).
"Our goal is to advance the completion target of the programme from 2021 to 2019 and connect the remaining 65,000 eligible habitations by constructing 2.23 lakh km of roads," Jaitley said.
He also announced that contracts for constructing nearly 10,000km of national highways will be awarded in 2016-17. In addition, around 50,000km of state highways will be upgraded as national highways.
This allocation towards physical infrastructure projects comes in the backdrop of twin balance sheet problem as articulated by the Economic Survey—the stressed financial positions of state-run banks and some business houses.
Experts agree with the government's strategy.
"Given the fiscal deficit constraint, I think the numbers for infrastructure announced today look good. There has been a hike of 20-30% in capital expenditure," said Abhaya Agarwal, partner and public private partnership leader, EY.
Agarwal added that too much capital expenditure at one shot is not desirable given that one may end up investing in projects not worthy enough and lose market value.
An analysis of December quarter results of all state-run banks by news agency Press Trust of India shows that the cumulative gross non-performing assets of 24 listed public sector banks, including market leader State Bank of India and its associates, stood at Rs3.93 trillion as on 31 December 2015.
As part of the comprehensive infrastructure development plan, the budget also focused on developing ports and airports.
"We are planning to develop new greenfield ports both in the eastern and western coasts of the country. The work on the National Waterways is also being expedited and Rs800 crore has been provided for these initiatives," said Jaitley, while adding that the Airport Authority of India will revive the unutilised and underutilised airstrips across the country in partnership with state governments.
To provide further impetus to mobilise funds for infrastructure spending, a total of Rs31,300 crore will be allowed to be raised through bonds issued by NHAI, Power Finance Corp. Ltd, Rural Electrification Corp. Ltd and Inland Water Authority, among others.
Making public private partnership (PPP) as its pivot to attract private sector investment, the budget announced the government's intent is to introduce a Public Utility (Resolution of Disputes) Bill and also guidelines for renegotiation of PPP concession contracts.
"A new credit rating system for infrastructure projects which gives emphasis to various in-built credit enhancement structures will be developed, instead of relying upon a standard perception of risk which often results in mispriced loans," Jaitley said.
Infrastructure development is necessary for realising a GDP growth of 7-7.5% for the next fiscal as projected by the Economic Survey released on 26 February. The Survey added that India could achieve a growth rate of 8-10% going forward.
"The government spending capacity cannot be increased overnight. So, taking into account other related announcements for ease of doing business and resolve to implement goods and services tax, the infrastructure sector is poised to gain," said EY's Agarwal.