Credit: Mukul Mudgal/VCCircle
Rocket Internet-incubated fashion e-commerce venture Jabong that hit a speed bump in the second half of 2015 has begun the new year with a marked improvement in performance while simultaneously cutting down operating loss.
The firm posted its best transaction volumes, net revenue and gross merchandise value (GMV) since October-December 2014 (the firm stated that its growth in Indian currency terms was higher still at 21.8%). Operating loss, too, was the lowest in almost two years (see chart).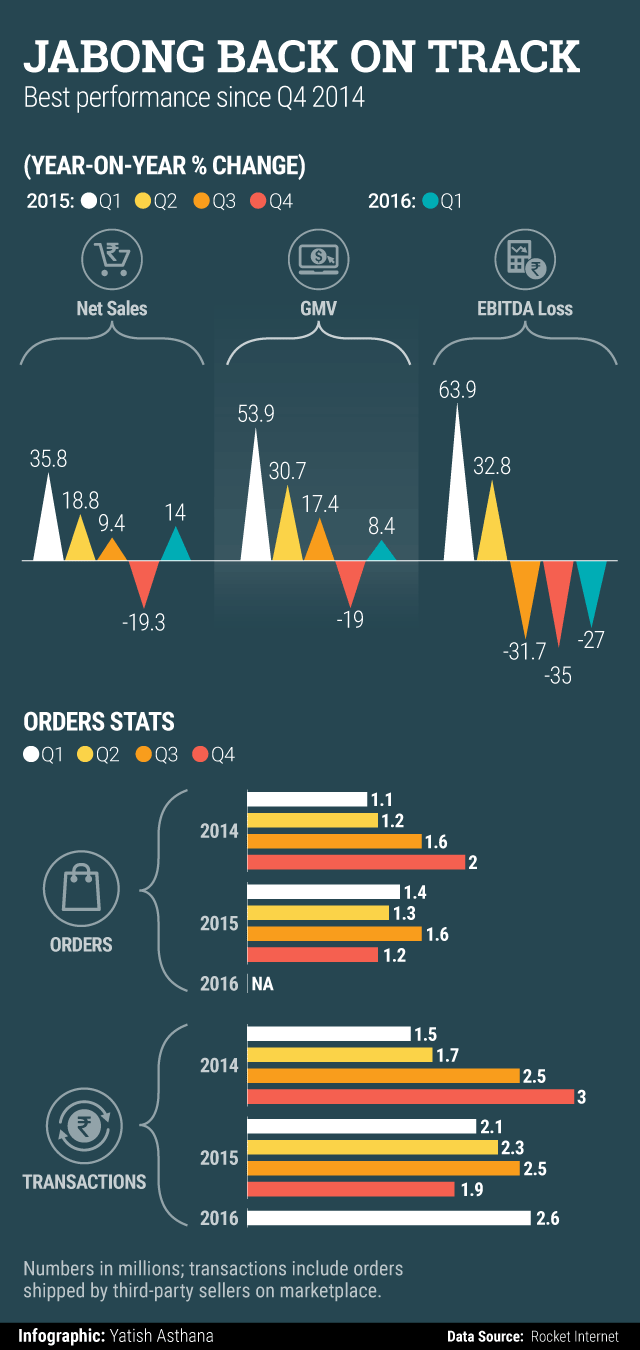 Jabong, which competes with Flipkart-owned Myntra among others, has been focusing on mending its leaking boat. Its EBITDA or operating loss (adjusted for share-based compensation) had been shrinking from Q3 and declined further in the three months ended March 31, 2016.
The firm had first felt the pain of scaling back discounts from the third quarter of 2015 (click here) and saw an even sharper slide in business in the last three months of the year.
The performance of the first quarter shows that the firm is back on the growth track while pruning its day-to-day losses even further.
Jabong saw a change in management at the fag end of last year with former Benetton India head Sanjeev Mohanty taking over as CEO in December.
Indeed, Mohanty had claimed early this year that Jabong registered the highest-ever month-on-month growth of nearly 35% per cent in net revenue for January, which marked its best performing month ever since inception in 2011.
In what appeared to be a veiled reference to arch rival Myntra, he had said, "Some players in the industry hide their real performance behind the veils of lofty GMV figures. In those terms too, we touched $66 million in GMV in January itself positioning us as the largest fashion e-commerce company in India, with a robust growth of 56% in our gross orders and 59% in gross items. At this rate, we will be within striking range of the $1 billion GMV mark by the year-end."
Earlier, arch rival Myntra had said its annualised GMV run rate touched $800 million in January, which means the company likely sold merchandise worth $66.67 million in January.
While data show Mohanty was correct about better performance of Jabong, the firm managed to clock the above-mentioned GMV for the whole quarter and not for the month of January.
An email query sent to the firm on the performance and inconsistency in its public statement and actual performance did not immediately elicit any response.
While the deteriorating performance of Jabong last year showed the big risk for e-commerce firms who have grown at a hectic pace on the back of aggressive customer acquisition tactics with discounts, its more recent track record reveals a silver lining.
But that has not stopped the dilution in valuation. Global Fashion Group (GFG), the global parent of Jabong, had recently raised fresh funding from its existing investors at a sharply lower valuation.
The company secured €300 million ($339 million or Rs 2,250 crore) from Germany's Rocket Internet SE and Swedish investment firm Kinnevik. The transaction valued the company at €1 billion. This was a drop of almost 68% from its previous funding round in July when it was valued at €3.1 billion.
GFG was created by combining six e-commerce brands that continue to operate in emerging markets around the world. It includes India's Jabong, Latin America's Dafiti, Russia's Lamoda, Namshi of the Middle East, Southeast Asia's Zalora and The Iconic in Australia.
GFG is not alone either. The concerns over growth is showing up for large e-tailers like Flipkart which are facing the prospect of lower valuation as they eye their next private funding round before they think of going public. Flipkart recently saw its valuation marked down again by Morgan Stanley, an existing investor who now values it at under $10 billion.