Rising prices of pulses fueled inflation to a 4-month high, official data released on Thursday showed.
Consumer price inflation accelerated to 5 per cent in October from 4.41 per cent in September, driven mainly by a 42.2 per cent rise in prices of pulses since last year.
While food price inflation for October quickened to 5.25 per from 3.88 per cent in September, the rise in other categories was modest with prices of vegetables increasing by 2.4 per cent over last year while that of cereals rising by 1.5 per cent.
Though inflation edged up to 5 per cent, it was still below the RBI comfort zone of 6 per cent. On the other hand, numbers for industrial output were a disappointment.
India's industrial output in September rose at 3.6 per cent compared with 6.3 per cent in August despite an increase in growth of index of eight core industries. Figures released for index of eight core industries which constitutes 38 per cent of IIP showed the infrastructure sector growing at 3.2 per cent higher compared with 2.6 per cent growth in August.   
While all three major sectors in IIP—mining, manufacturing and electricity—rose, the pace for manufacturing and mining was subdued with manufacturing activity increasing at 2.6 per cent after touching a 34-month high last month. Electricity, on the other hand, saw an increase of 11.4 per cent touching a 10-month high in October.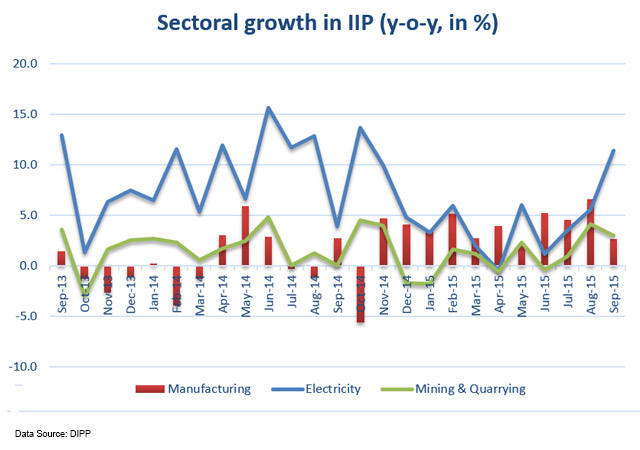 In terms of sectors, only 11 of the 22 industry groups in the manufacturing sector recorded growth during the month with growth in capital goods sector coming in at 10.5 per cent—almost half of the 21 per cent growth recorded last month.  
While the trend for inflation is not a cause of worry for the economy, rising prices and falling output can spell trouble for the nation as RBI would have to hold the rate cuts on hold for the coming quarters which can throw the government off its development agenda.
While RBI is not expected to cut rates further this year, given that it has already delivered a 50 bps rate cut in September, all eyes will be on the GDP figures to be released on November 30. 
With a loss in Bihar, a poor track record in terms of GDP will create more problems for the government in convincing the Opposition to clear some of the major reforms.