India's foreign direct investment (FDI) flows may pick up only modestly in fiscal 2024 after a fall seen in the first 10 months of fiscal 2023, economists at Citi said in a note on Tuesday.
Citi expects net FDI flows – which include both outflows and inflows – to be at $35 billion in fiscal 2024.
This is on the back of manufacturing FDI likely seeing some traction from government schemes and "the build-up of ecosystem around recent large greenfield investments," Samiran Chakraborty and Baqar Zaidi wrote in the note.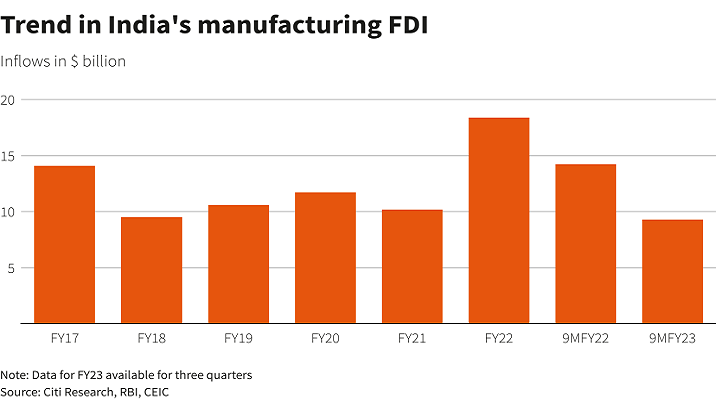 Net FDI flows in the first ten months of fiscal 2023 stood at $26.5 billion, a decline of 14.3% year-on-year. Gross FDI flows for the April-January period stood at $61.5 billion, down nearly 13%, as per Citi.
The FDI decline resembled a wider global phenomenon amid investor uncertainty, worsening profitability of multinational corporations, and moderation in private equity and venture capital investments.
However, some concerns over the decline in potential growth (in India), widening income inequality and some macro stability issues in 2022 could have also weighed in on FDI, the economists said.
Citi's preliminary analysis of sectoral FDI does not suggest any "meaningful" response so far to India's production-linked incentive scheme put in place to boost local manufacturing and exports.
And despite the current account deficit (CAD) being expected to improve to 1.4% of the gross domestic product in fiscal 2024, the slowdown in FDI inflows means the basic balance - the sum of CAD and FDI - is likely to be in deficit for almost three consecutive years, Citi said.
This will increase India's reliance on more volatile foreign portfolio inflows and rate differential-sensitive commercial loans to fund the CAD, said Citi.
It could lead to more volatility in the rupee and necessitate more frequent interventions by the Reserve Bank of India in the foreign exchange market, Citi added.